discover the new laptops from Samsung
In addition to the anticipated announcement of the Samsung Galaxy S23, the manufacturer is taking the opportunity to renew its fleet of laptops.
We almost forget it, but Samsung has also invested in the laptop market. So it's not surprising to see him taking advantage of the general attention generated by the Galaxy S23 announcement to give his Galaxy Books a facelift. In detail that, this year, a new guest shows up at the party.
Galaxy Book switches to Ultra mode
This is perhaps the biggest surprise of today's series of announcements: the Galaxy Book family is growing to make way for a Galaxy Book 3 Ultra that, you guessed it, will not skimp on any aspect of its technical sheet.
This high-end laptop borrows its design from the Galaxy Book 3 Pro, with its brushed aluminum chassis and its remarkable thinness (13.2 mm, 1.17 kg) for a 16-inch computer. Yes, you read that right: 16 inches. This newcomer is accompanied by a superb AMOLED touch screen clocked at 120 Hz and displaying a definition of 2880 x 1800 pixels in a 16:10 ratio. Its large size also allows it to add a numeric keypad to its keyboard.
But as you might imagine, the biggest piece of the Galaxy Book Ultra is under the hood. In this case, it laptop can be configured with the latest processors from Intel and the latest graphics cards from NVIDIA.
At the "entry level", we find the Intel Core i7-13700H and an NVIDIA RTX 4050 (6 GB VRAM), accompanied by 16 GB of RAM and 512 GB of SSD storage. The most expensive Galaxy Book 3 Ultra model will switch to an Intel Core i9-13900H processor and an RTX 4070 (8 GB VRAM), 32 GB of RAM and 1 TB of SSD storage.
On the connector side, the side of the Galaxy Book 3 Ultra has three USB-C Thunderbolt 4 ports, a USB-A port, an HDMI output, a 3.5 mm jack and an SD card slot.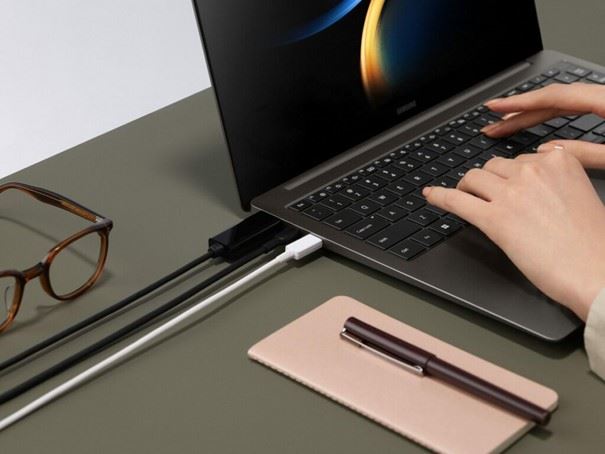 As for the price, you obviously have to break the bank to buy the new gem from Samsung. Auctions start at €3,499 for the RTX 4050 model and go up to €3,899 for the RTX 4070 version. No doubt: Samsung is attacking Apple and its recent MacBook Pro 16 M2 Max with a similar price.
The Galaxy Book 3 Pro bends backwards
More classic but still attractive, the Galaxy Book 3 Pro is available in 14 and 16 inch versions this year. A very small increase compared to the 13.3 inches and 15.6 inches of the previous models. We maintain a Super AMOLED panel that displays a WQXGA + definition at a frequency of 120 Hz.
On the performance side, we can see inside this thin and light laptop (0.87 Kg only for the 14″ model) an Intel Core i5-1340P or i7-1360P processor as well as 16 GB of RAM and 512 GB or 1 TB of SSD storage.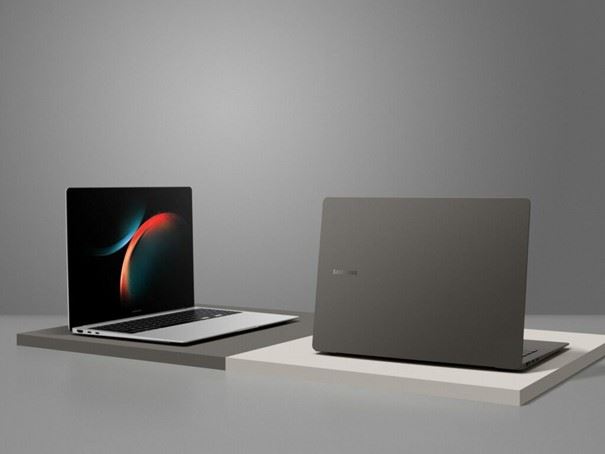 As last year, the Galaxy Book 3 Pro is also available in a 360 version, with the particularity of having a touch screen and a hinge that allows it to be opened widely to be used as a tablet. Because of this, this model comes with an S Pen stylus.
To talk about connectivity, these different models have four Thunderbolt 4 ports, a USB-A port, an HDMI output, an SD card slot and a jack socket.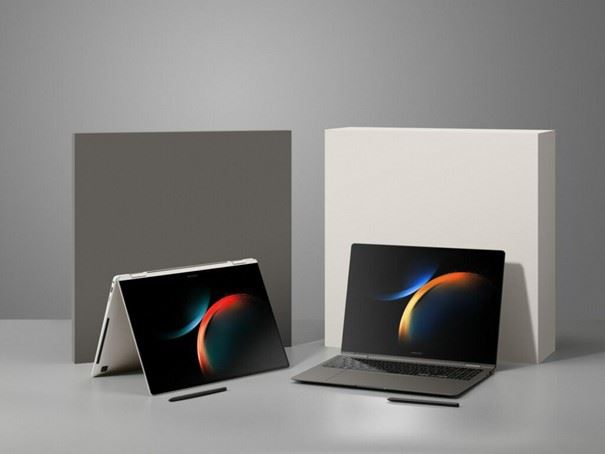 Here is the price breakdown of the different models:
Samsung Galaxy Book 3 Pro 14″: from €1,999
Samsung Galaxy Book 3 Pro 16″: from €2,099
Samsung Galaxy Book 3 Pro 360: from €2,199
Prices have risen significantly compared to last year's Galaxy Book 2 Pro, with auctions starting at €1,299.
The entry-level is getting a makeover
Finally, Samsung doesn't forget its entry level Galaxy Book 3 and Galaxy Book 3 360.
Available in two sizes (13.3″ and 15.6″), these laptops are equipped with an LCD screen (OLED for 360) Full HD 60 Hz. Only the Galaxy Book 3 360 is tactile due to its hybrid nature.
Under the hood, there is an Intel Core i5-1340P and i7-1360P as well as 8 GB of RAM for 256 GB of SSD storage in the most affordable version.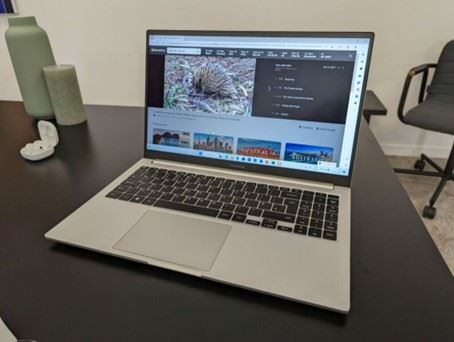 Connectivity remains open with 2x Thunderbolt 4, 2x USB-A, 1x HDMI, 1x SD card and 1x 3.5 mm jack.
Again, we highlight a significant price increase compared to last year's models. See instead:
Samsung Galaxy Book 3 13.3″: from €1,199
Samsung Galaxy Book 3 15.6″: from €1,299
Samsung Galaxy Book 3 360 13.3″: from €1,399
Samsung Galaxy Book 3 360 15.6″: from €1,699