ASUS ROG Azoth Keyboard review
Asus is a brand already known in the video game world, and on the occasion of CES 2023, the company is announcing some new features. In the lot, we found the ROG Azoth mechanical keyboard, which is designed for gamers and wants to be a reference for gamers. Was the bet successful?
Summary
ROG Azoth Mechanical Keyboard Overview and Features

Design and comfort

Features of Asus ROG Azoth
ROG Azoth Mechanical Keyboard Overview and Features
Asus already offers many products aimed at gamers. Whether it's the Asus Rog laptop range, or even gaming mice, we tell you about the Asus ROG Azoth mechanical keyboard, which has some great surprises in store.
Buy Asus ROG Azoth Mechanical Keyboard
| | |
| --- | --- |
| | |
| Keyboard Type | TKL 75% |
| cut off | 32.6×13.6×40 |
| Move over | ROG NX Red |
| Macros | All programmable keys |
| Backlight | yes, by key |
| Screen | OLED 256×64 |
| Frame | Metallic |
| Anti-ghosting | Yes |
| Number of profiles | 5 + 1 by default |
| Connector | USB-C |
| Log in | USB 2.0, Bluetooth, dongle |
As seen in its features, the Asus ROG Azoth is a high-end mechanical keyboard that aims to combine comfort and typing performance. Its 75% format aims to maximize the space on your desk, especially since Asus is well aware that this type of mechanical keyboard is mainly for gamers, who rarely need a numeric keypad .
We ended up with a wireless keyboard that offers a USB-C connection (for charging), and two wireless modes: with dongle and bluetooth. If you're looking for a premium wireless mechanical keyboard for gaming, while optimizing your space and cable management, the Asus ROG Azoth is literally made for it.
Design and comfort
If we look at the Asus ROG Azoth keyboard, we can already notice the small OLED screen on the top right of the object. This screen works in conjunction with the Armory Crate driver software. This will allow you to customize your experience by showing the information you want, be it battery, any logo, or even showing whether your keyboard is configured in Mac or PC mode.
Because yes, Asus ROG Azoth works on Windows and Mac. Although this type of thing is mainly focused on gaming, we can highlight this effort on the part of Asus, which will allow people with a PC for gaming and a Mac for work, to use of the same keyboard.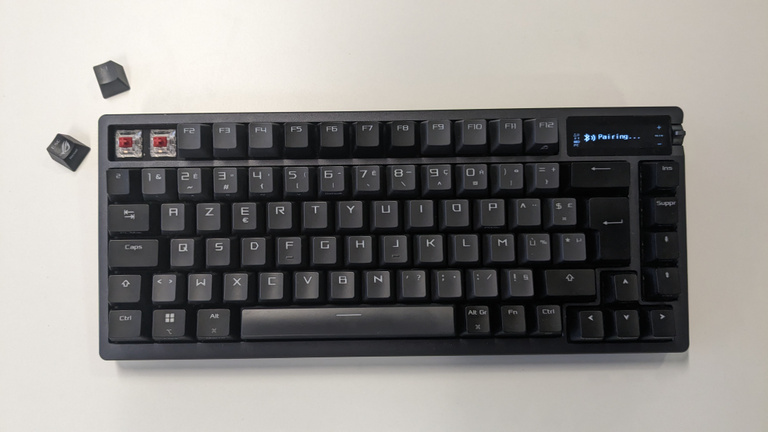 In terms of keystroke quality, the ROG NX switches clearly make the coffee. Typing is smooth and the stroke is very pleasant especially in game. So let's start there because the Asus Azoth is game oriented and allows me to use it in different types of games. Obviously, in a game like Overwatch 2 , this keyboard has not changed much for me compared to my old mechanical keyboard, but what is very important is above all the small noise that the model makes.
Mechanical keyboards tend to be very noisy, but the Asus ROG offers a silicone membrane that completely silences the noise. The result is a rather "ASMR" keystroke that changes from the loud typewriter noises made by certain models, you won't disturb your family or friends during your gaming sessions. The covers are long and complete, allowing the keyboard to produce a muffled noise along with the switches, very pleasing to the ears.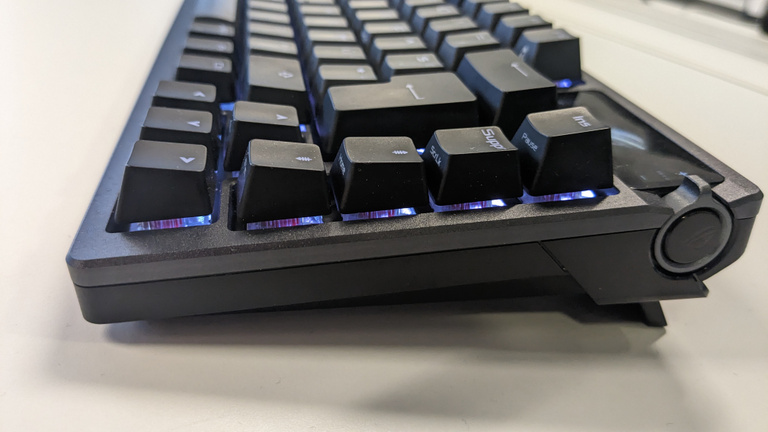 The Asus ROG Azoth keyboard has a fairly heavy metal chassis and non-slip pad, which allows it, despite its small size, not to move an inch on a desk. That includes two flaps (two different sizes) on the back, and you have a keyboard that fits perfectly on your desk surface (wood, glass, etc.) in addition to using the perfect angle for your hit.
In terms of daily typing, for work for example, this model remains excellent because it does not take up much space and offers a good sound compared to other mechanical keyboards of this type of scope.
Features of Asus ROG Azoth
Who says gaming, says LED (of course)! The Asus Azoth has a fully programmable LED backlight layer in the Armory Crate software, so you can use the style you want.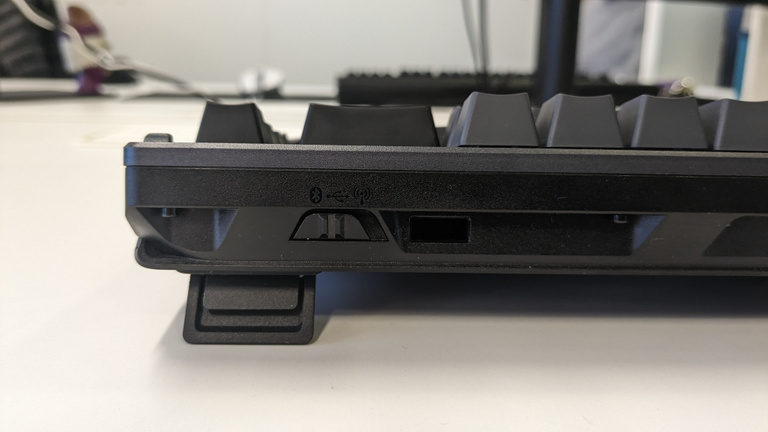 The keyboard comes with a lubricant kit to restore the health of your switches so they slide smoothly. The keys are very easy to remove despite the long covers with the key remover supplied with the model. The keyboard is therefore easily customizable and all keys are replaceable.
The OLED panel at the top right of the keyboard allows you to get various information, such as battery state, current connection (USB, Bluetooth) as well as to adjust the sound level of your PC or the backlight brightness. .
Regarding the battery, Asus promises an autonomy (without backlight) of 130 hours, but I can't measure its real durability because in two weeks of use I haven't had to charge it once. Charging will therefore not be a problem for you with this model.
Who said the functions, said the driver software… And at one time, there was the only black point that came with all Asus gaming products. Armory Crate is still a great gas plant with a lot of hard-to-find features and a bad interface. The options are many and practical, you still have to find them in the software.
In addition to the Asus ROG Azoth keyboard, you can also find the Asus ROG Harpe Ace mouse test right here:
I have never tried such a light mouse for playing video games, my experience after 1 month with Asus ROG Harpe Ace
Buy Asus ROG Azoth Mechanical Keyboard
Conclusion

Strong points
Switch to typing very nicely
A very nice sound to hit
Fully customizable OLED display
Matte keys that grip the finger well
Asus knows how to make gamers happy and this Asus Azoth mechanical keyboard shows us the expertise of the brand. This 75% model has very practical features and fully customizable profiles to please everyone. Its ROG NX switches are very nice to the touch and the sound coming from them remains softer and more pleasant than what is usually found in the competition. The metal frame and its non-slip pads are very practical as they allow you to securely fix the keyboard on your desk, regardless of the surface. In short, this Asus ROG Azoth is particularly good in its field and perfect for gamers looking for a fetish keyboard.
This page contains affiliate links to some products that JV has selected for you. Each purchase you make by clicking on one of these links will not cost you more, but the e-merchant will pay us a commission. The prices indicated in the article are those offered by the merchant sites at the time of publication of the article and these prices are likely to vary at the sole discretion of the merchant site without notifying the JV.
Learn more.