create and manage your contests on Instagram, Facebook, Twitter and YouTube
Contests have existed since the dawn of the web, and have become more democratic in web 2.0. They are still at the heart of many brands' marketing strategies to bring their community to life, or create virality. Pickaw is a benchmark French solution that allows you to easily manage your contests on all social networks, and automate the management of draws. Unlike many competitors, Pickaw is also able to manage contests on Instagram, and takes into account the Reels format, which is very popular on the network.
Try Pickaw
Manage your contests, even on Instagram
Pickaw continues to evolve and expand its offering by allowing brands to create and manage contests on Instagram. Widely used by brands in many sectors, Instagram lends itself particularly well to contests: visual publications, 2 billion users worldwide, a higher engagement rate than Facebook and users who love these mechanisms.
Competition possibilities include:
Leave a comment on the post
Tag friends
Best caption under a post
Using a specific hashtag or keyword in comments
All these interactions increase the virality and visibility of your competitions, and therefore of your brand or your products. But to be efficient, and save time managing contests, as well as raffles and assigning winners, it's important to use the right tools. Keeping track of all participants, all comments, retweets, subscriptions, etc. can quickly become complicated. Pickaw allows you to centralize the management of your contests simply, and across all your social spaces.
Try Pickaw
It's easy to create and schedule a contest
Pickaw offers a complete and powerful contest creation tool, the Contest Builder. It allows you to create a contest in a few clicks, and manage it entirely from the platform. The creation of the contest is done in a few very simple steps: definition of the contest announcement date, closing date and number of winners, exclusion or not of previous winners, manual verification of winners (giving way to check that they have fulfilled all the conditions to win), automatic drawing…
Once the contest is set up, all you have to do is create its content. Again, everything is done very simply with a few clicks. You can choose the account on which to publish the contest, create a contest message stating the conditions and prizes to be won, add visuals (1 video, 1 GIF, or up to 4 images).
You can also create a final post, which will be automatically published in response to the main post at the end of the contest, and a winner announcement post, which will be automatically published in response to the main post.
Certain "actions" can also be configured to validate a user's participation in the contest. Then you can verify participations only if the participant has reacted to a publication, or commented on a post. You can also set mandatory keywords in comments.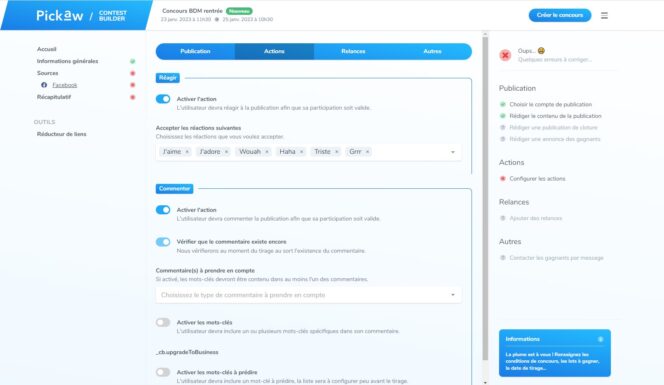 Pickaw also allows you to create follow-ups to give more prominence to your competition. Therefore, reminders will be published automatically on the dates specified, and in the messages you choose.
Once the contest is configured, you can activate the automation of the winners' contact: they will immediately receive a private message. Before launching it, you have access to a preview of the message, to make sure there are no errors.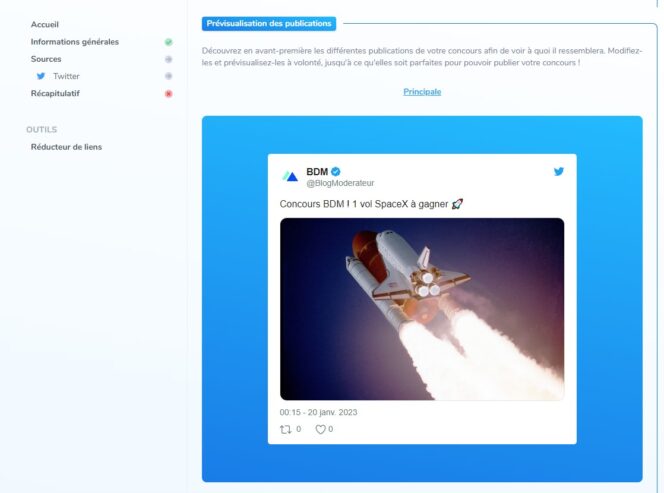 Manage your contests on all social networks
Pickaw's main strength is to adapt to all networks: Facebook, Twitter, YouTube and Instagram. The tool is even able to manage Instagram Reels and perfectly adapts to the current mechanics. You can manage all your competitions on the same platform.
Bonus: the quick draw feature allows you to import your tournament into Pickaw, even if it wasn't created through the platform, to manage the draw.
Another advantage of Pickaw: its management of draws. The tool offers a very high level of draw quality: anti-contestant filter, test draws, randomness management, manual verification of the draw, anti-robots filter, exclusion of accounts… In Pickaw the draws are made in rules, and a public verification page is accessible to verify the authenticity of the results. A true commitment of trust for your community.
The platform is well thought out to manage your contests, and adapts to all the needs of marketing professionals. Several paid plans are possible, and range from €19 to €499 per month depending on features. For brands that make heavy use of these mechanics, the tool is incredibly valuable.
Try Pickaw
To learn more about organizing competitions, good practices, and legal aspects that must be respected, Pickaw is organizing a webinar on Thursday, January 26. In the program of this event: legal procedures for organizing competitions, data collection, co-marketing and partnerships, mechanics and reachable actions…
The webinar will be moderated by Thomas Reichling, CEO and President of Pickaw, François Olivier, Social Media Manager at Hyundai and Cathy Solagna, attorney.
Register for the webinar