UPDF: a complete PDF editor better than the rest 📍
Convert, edit and annotate any PDF you need with a lifetime license for UPDF. The software is currently 52% off, so take advantage!
macOS includes a very useful PDF editor through its Preview app, but nothing spectacular. This leaves users looking for third-party solutions, and UPDF is one of the most popular. The editor lets you create, edit, annotate, organize, sign, and protect PDFs whether you're on your Mac, iPhone, or iPad.
UPDF has a clear and easy-to-use interface that lets you get to work right away. Four tabs appear at the top of the screen: Annotate, Edit, Scan, OCR, and Export, each presenting a more user-friendly set of tools. When you open a PDF file, it is displayed in the main pane, and thumbnails of the document pages are displayed in a sidebar on the left.
A real PDF editor
UPDF offers a full range of annotation tools, allowing you to highlight text and add notes, stamps, shapes, etc. You can capture your signature with your Mac's keyboard or trackpad, your iPhone's camera, or an Apple Pencil on your iPad, Windows, and Android, and sync it across all your Apple devices to sign contracts , invoices and other documents. The editor also supports forms, automatically detecting and highlighting fields that need to be filled.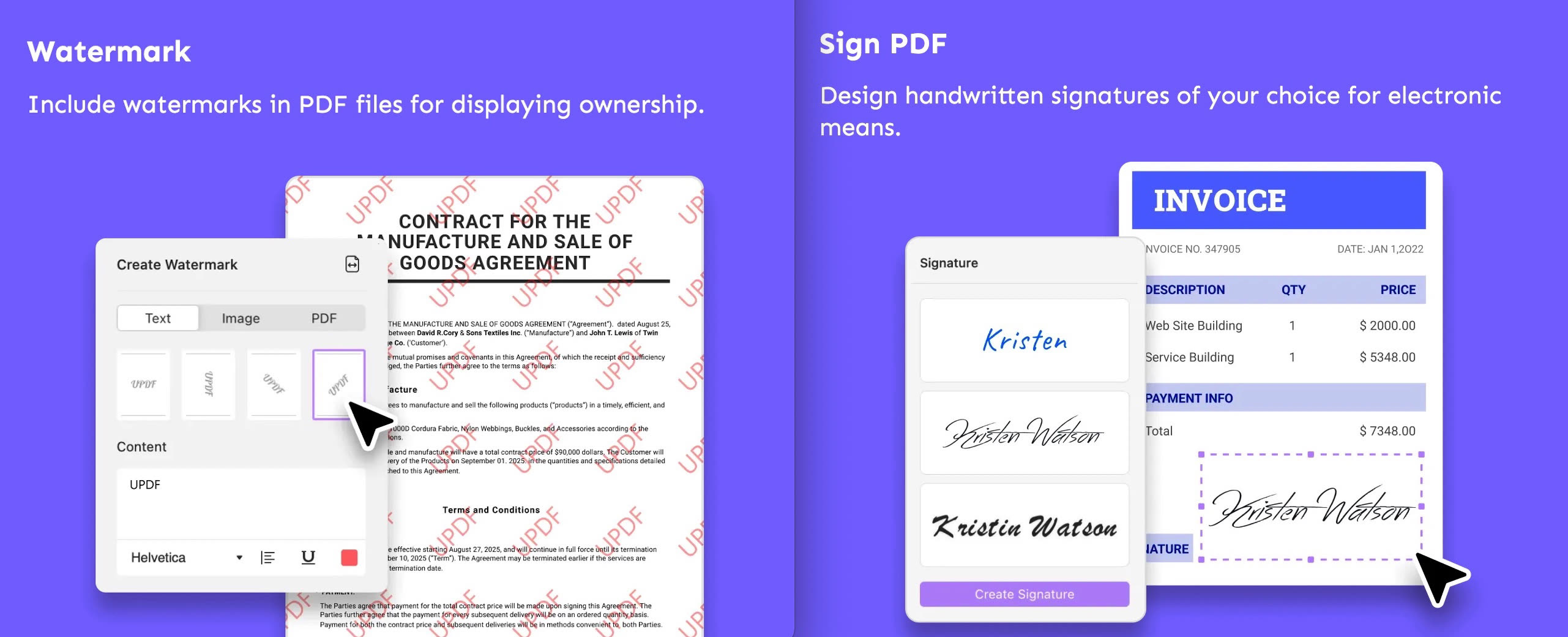 UPDF supports editing PDF watermarks, headers and footers and backgrounds, making PDF editing just like Word.
True to its name, the editor expertly handles all possible tasks. It can convert scanned documents to editable text with one click and it converts PDFs to Microsoft Office formats, plain text or image files.
The advantages of UPDF are many: the modern and intuitive interface design is pleasant, a single universal account is sufficient for all devices, the software can be purchased with only one payment for all platform and it is very fast even when you open large files. .
On the other hand, some features such as form creation, digital signature, batch processing are still missing. But they will be added soon.
What to choose between Adobe Acrobat and UPDF?
Adobe Acrobat is the most powerful PDF editing software in the world, however, it is heavy and expensive. Honestly, most people don't need these features: it's a good option for professionals or businesses, but a bit overkill for the average user.
There are many reasons why you should not choose Adobe Acrobat over UPDF. While we looked at the price and compatibility differences on both devices, there is a distinct feature difference between the tools. This makes UPDF more preferred in the market in terms of Adobe Acrobat. For this, you need to look at various features that you cannot find in Adobe Acrobat as follows:
👉 See all the differences between Adobe Acrobat and UPDF
On its own, UPDF also has its share of very useful features, some of which are not available in Adobe Acrobat. Stickers, for example, are a great way to improve the appearance of a UPDF document. The ability to add rich text by dragging, too.
Many options are available to convert your PDF documents using UPDF: although you can find some basic file formats in the UPDF and Adobe Acrobat list, there are some file formats that are not provided by Adobe. You won't find the option to convert PDF to CSV, convert PDF to BMP or convert PDF to GIF using Adobe.
How does UPDF compare to PDF Expert?
Similarly, UPDF compares favorably with PDF Expert. The software is 50% cheaper than its competitor, but also offers a license for several platforms, where PDF Expert is only available for one machine per subscription.
👉 See all the differences between UPDF and PDF Expert
UPDF also has other advantages in this particular software: still stickers, which are not in PDF Expert, annotation tools with shapes, too. Slideshows (you can show the entire PDF document in slides with different modes) are also present in UPDF, not PDF Expert.

Select UPDF for your devices
You can use UPDF on your Mac, iPhone, and iPad for $46.99 for a perpetual license or $23.99 per year, which is less than Adobe Acrobat DC, Nitro PDF Pro, or others.
UPDF provides a free trial on all platforms. You can fully use all features before purchase. It's worth taking a chance to determine if this great editor meets your needs.
Use on Windows, macOS, Android, iOS
no watermark
All the annotation tools are there
Edit text, images and PDF links
Convert your PDFs to Word, Excel, PPT, etc.
Includes OCR text recognition
Extract, insert, replace, split pages: everything is possible
Minor updates are free