what will the laptop of 2023 look like?
Computer hardware manufacturers release their new products. And 2023 could be the arrival of crazy projects and Oled screens everywhere.
The CES show in Las Vegas has closed its doors and the first trends for the coming year are emerging. As is often the case, manufacturers took advantage of the American meeting to unveil the products that will delight 2023 and one fact seems certain: the laptop must be better, more efficient and above all suitable.
Thus we are witnessing a greater segmentation of a market, marked by the remnants of the pandemic, which has generated a rapid re-equipment of consumers at all prices, but also by a lack of components that has slowed down this growth .
"We don't need to prove that the PC matters anymore"
Because today, the powerful PC is no longer the ultimate. Or should it be for creativity, play, or development, depending on each person's needs. "Because of the pandemic, we no longer have to prove that the PC is important," summarized Tiffany Huang, global director of operations at Acer, to Tech&Co. "Everyone needs a PC at home to work better. We are far from 2019 where the PC has to fight with the smartphone or the tablet to show that it is still useful. Now everyone wants a PC for what he needs to do."
"We noticed a slowdown in the sector that started in 2020-21. We are in a decline phase", added the head of the Taiwanese manufacturer, noting however that a new consumer profile has emerged. "Users now want a device that can be used during the day for work and the rest of the time for entertainment as well," he said.
"A segmentation appears between an entry-level that is growing strongly for devices under 400 euros, and the very high end – more than 1200 euros – with customers looking for high added value" For to manufacturers, the challenge today is to meet these two extremes.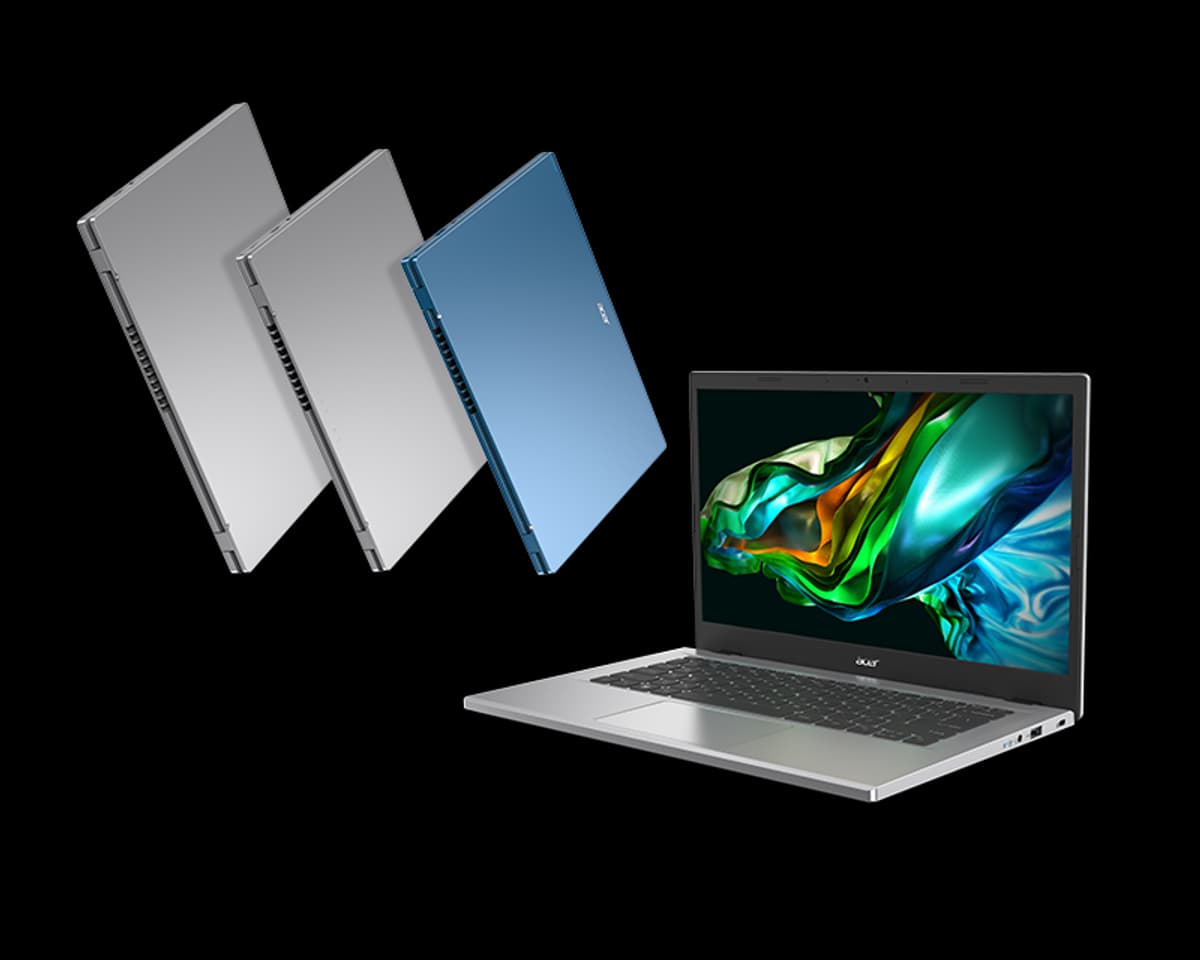 Even the most affordable machines are no longer satisfied with low-end components: Intel even announced the arrival of low-cost and low-power N processors, which are faster than before. It must be said that Chromebooks, these laptops that come with the simplistic Chrome OS operating system from Google, make them competitive at low prices.
Bigger screens
But we also need to innovate to attract new customers with computers that stand out, all-in-ones like its Aspire S, very clearly inspired by Apple's iMac, or a Swift Edge, a 16-inch laptop PC that is very light and powerful.
At Asus, the trend in 2023 will also increase screen diagonals to 16 inches and generalize OLED, whether in the Vivobook or Zenbook ranges. And that tends to be the same guideline for PCs as it is for displays across all manufacturers.
We see external screens in 27 and 45 inches in Acer Predator, Asus ROG and LG Gaming (same sizes, but with the possibility of mechanical screen curvature), but also in Samsung with Odyssey Neog G9 Oled. This one comes in at 49 inches and you can't go wrong.
Because, under the same name as the Odyssey Neo G9, the South Korean also has a relatively large 57-inch curved screen, but it's stunning with its bright colors and contrast.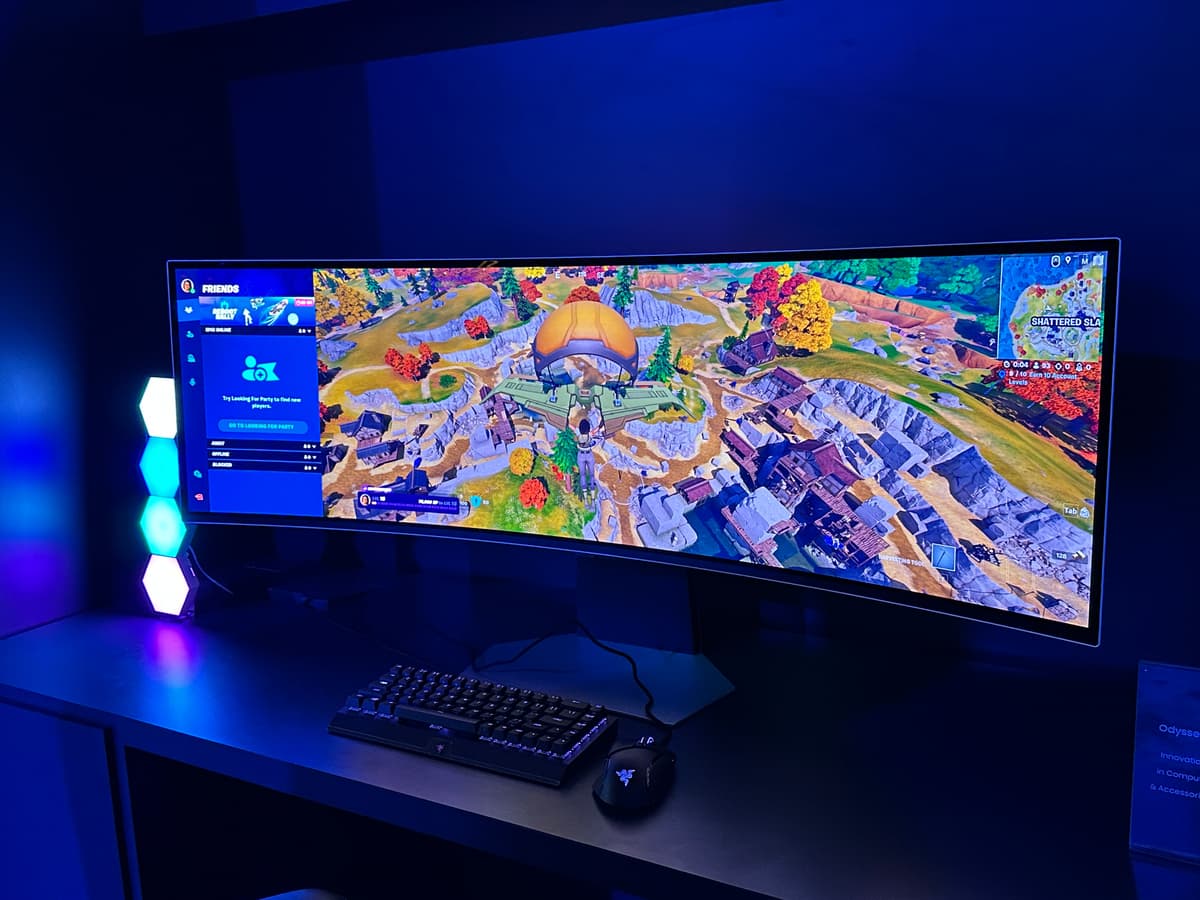 Specialist and pioneer of mini LED (an improved LCD panel, close to OLED) in TV, TCL has also chosen this option in gaming screens to offer a flat screen of excellent quality at a more affordable price than OLED.
Samsung does the same with its Odyssey Neo G7 with an image refresh rate of 144 Hz. In addition to the beautiful screen, it has a Samsung Hub that allows you to have Netflix, myCanal, Prime Video… or even cloud gaming applications. just like Xbox Game Pass or Nvidia GeForce Now to play directly by connecting a simple controller.
The premium is also for the design to stand out
Instead of focusing on originality, Lenovo presented its ThinkBook Plus Twist. On the battery side, it has a basic 13.3-inch OLED touchscreen. On the front side, there is a 12-inch e-Ink touch screen with a front light, like a reading light. It will be used to draw, read, or take notes with the compatible stylus, in a less energy-intensive way, while the classic screen will be perfect for streaming or video games in addition to classic productivity.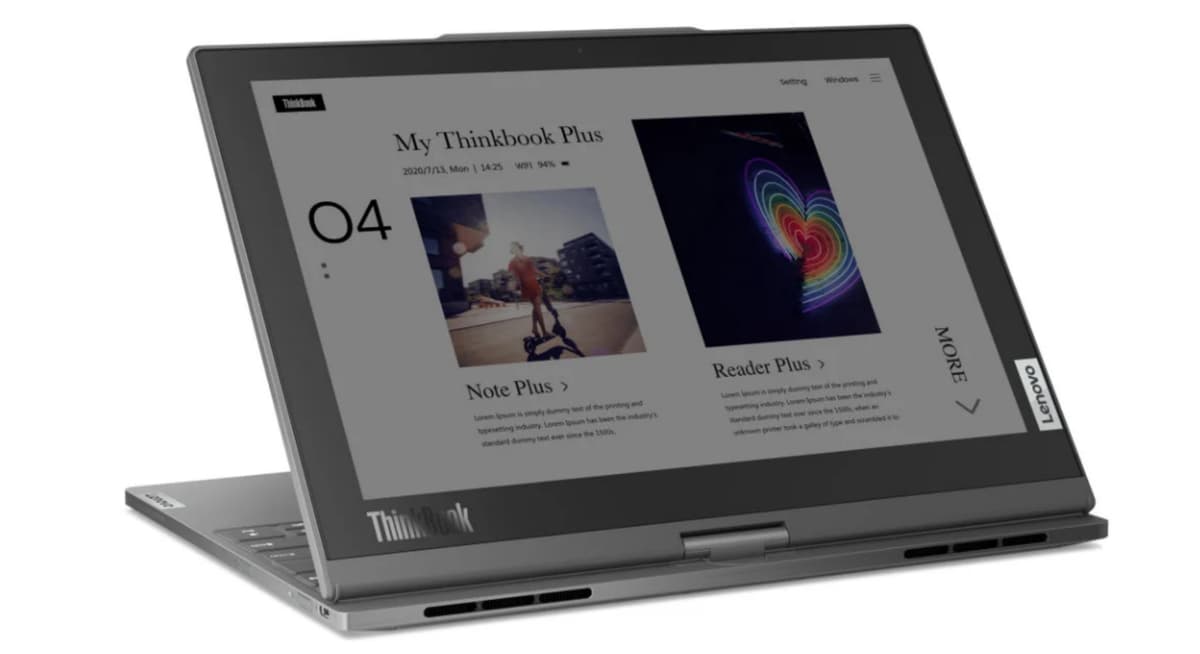 Very inspired, the Chinese manufacturer also drew a Yoga Book 9i, a 13-inch dual-screen OLED laptop. They can even be used continuously for larger surfaces, especially by displaying two applications at once. Its finesse and light weight (1.38 kg) also appeal in its favor. But it has a price: 2300 euros (available in July 2023).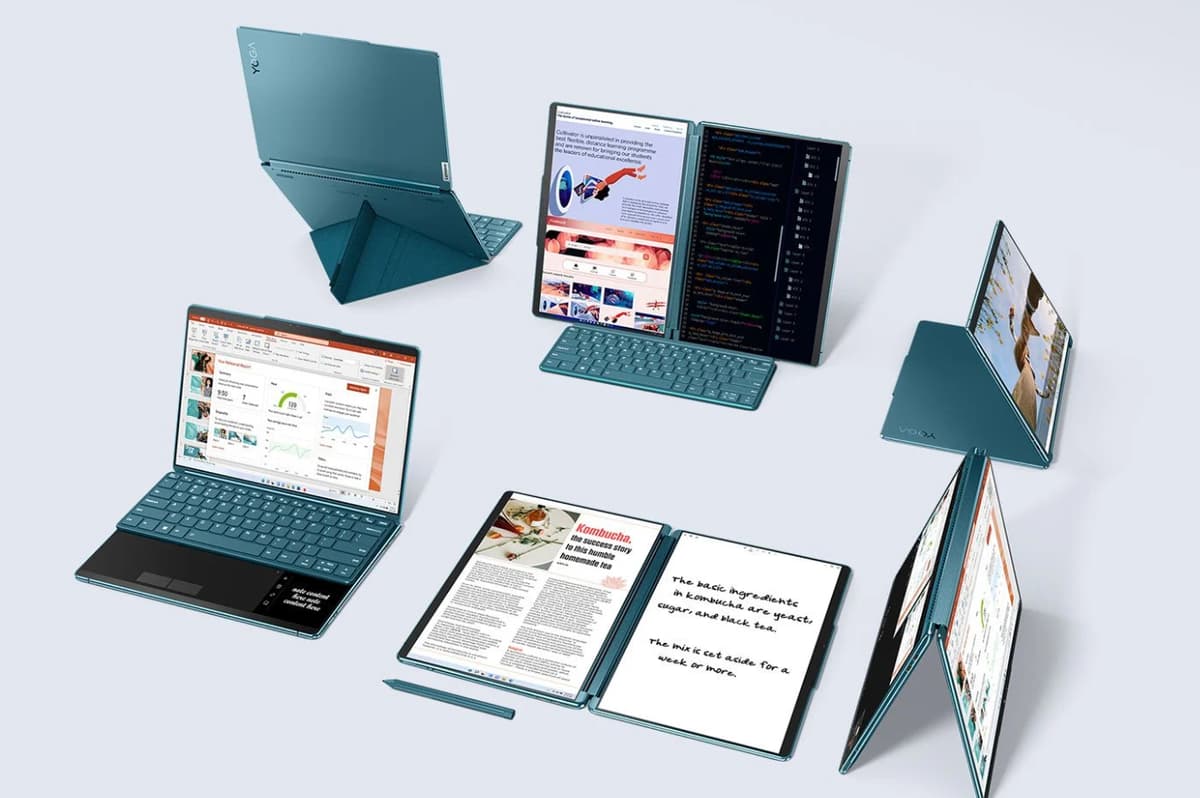 Note that the Yoga Book 9i can be used in different ways, with the keyboard positioned on the second screen or working separately on two separate screens, folded in on themselves or not.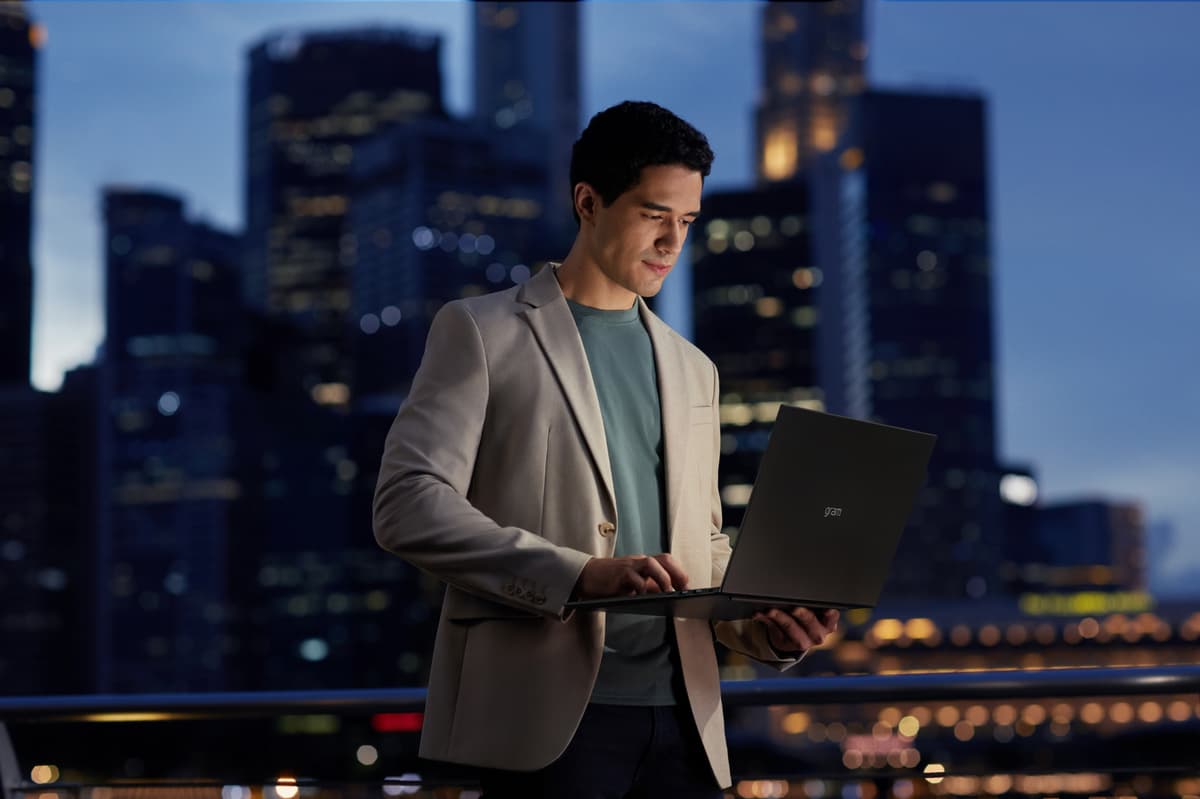 At the same time, manufacturers continue their search for refinement. LG has announced a new series of models for its LG Gram range, with an effort in design and power, with screens from 14 to 17 inches. This is particularly the case of the LG Gram Ultraslim which shows 998g in size for a 15.6 inch OLED screen and 1.1 cm thick closed. More than a smartphone.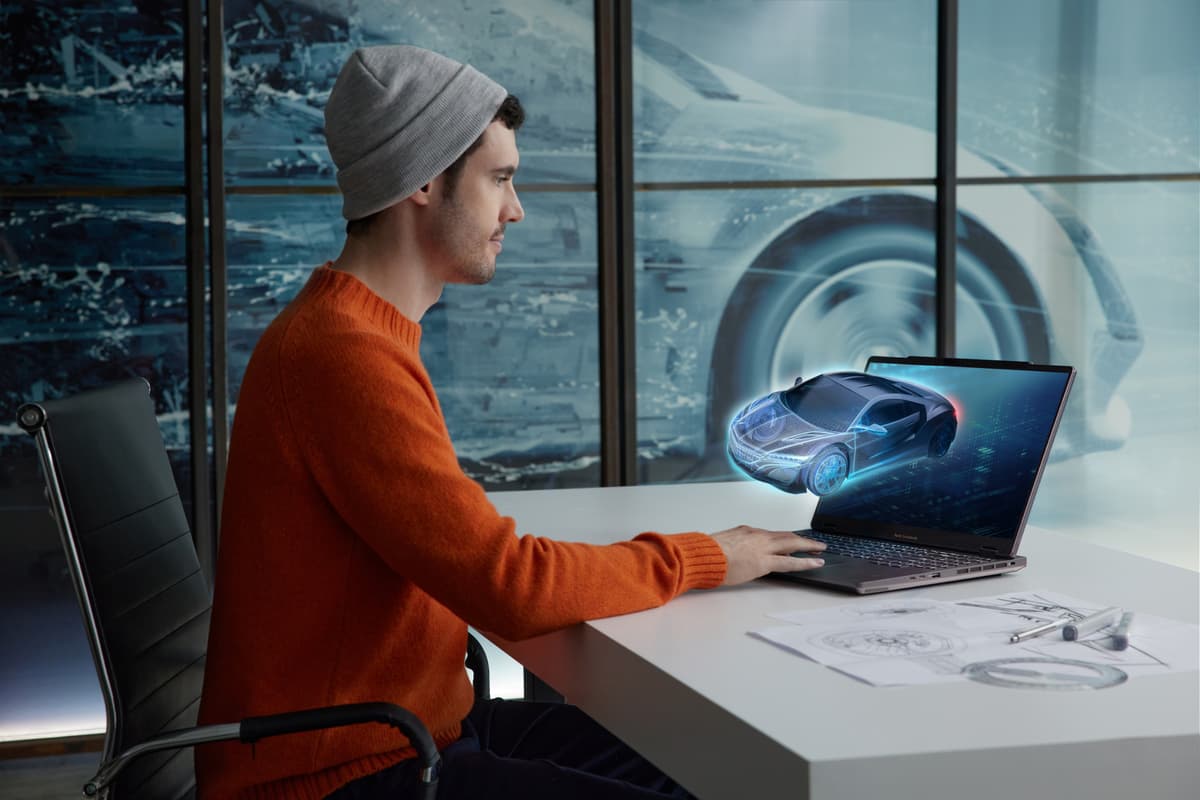 And 3D also becomes an asset to stand out. Asus presented an absolutely crazy computer. ProArt StudioBook 3D OLED makes it possible to view 3D elements without headphones or glasses on a PC equipped with two gaze-following cameras. This allows you to look at an object and manipulate it in 360°. Ideal for creatives and artists.