Free video editing on Windows: how to make your movies easy
Did you know that there is free video editing software hidden in your Microsoft Photos app? Popular and lightweight, this photo editor and viewer comes pre-installed on Windows 10 and 11. If you can't find it, search in the search bar Legacy video editor.
This video editor has been an integral part of the Photos app since 2017 and is the successor to Windows Movie Maker. For video editing software, it's really simple (even basic) and really accessible and you won't need a high-end video editing computer to get results. You can upload and organize media in your Timeline, then add some special effects, 3D animations, transitions, and music.
This software can never compete with DaVinci Resolve, a Hollywood level software. It doesn't even come close to Microsoft's recently acquired Clipchamp, one of the best video editing software for beginners. It just lacks the tools and features to meet the expectations of professional editors and videographers.
But for properly trimming videos, creating quick clips, and making your raw footage presentable, Microsoft Video Editor is perfect. Best of all, in-app editing lets you go back and tweak effects later if you change your mind.
Although it's built on the basics of JPGs and PNGs, it's powerful enough to let you edit and trim your movies as well.
Here's how to find the video editor and create a video from start to finish.
The best editing software ever
How to Edit Videos in Photos Video Editor
1. Select your files
Open the Photos app. At the end of the menu bar, you'll find the Video Editor tab. Click on it, then select "New Video Project". Give your project a name and press OK.
The main screen has three panels: the Project Library, the Preview Window, and the Storyboard (this is your Timeline).
To add your media, go to the Project Library and press Add. Select the location of your files, then select media. They will now appear in the library, accessible when you need them.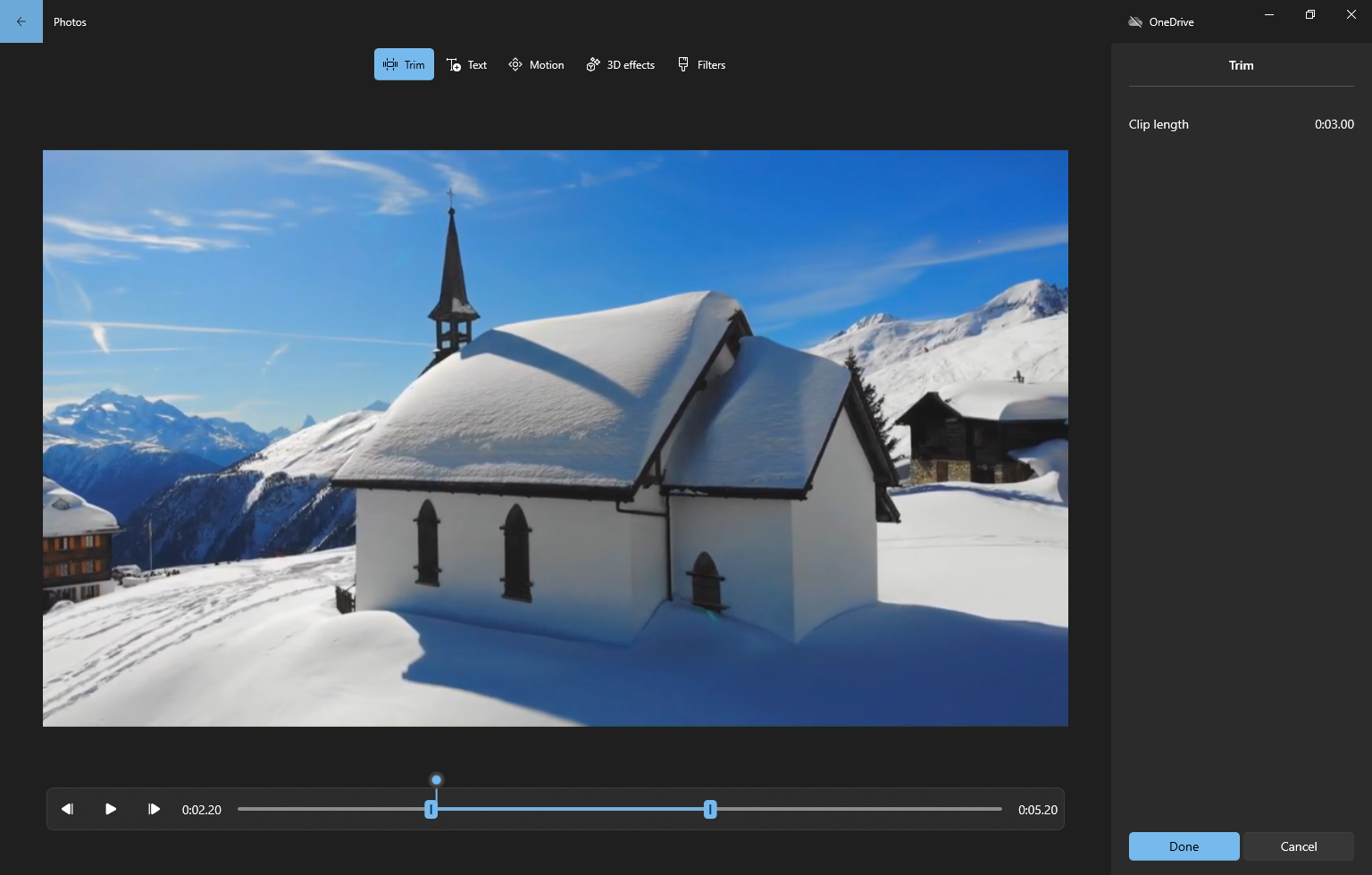 2. Organize and Trim Video Clips
Once your videos and photos are stored in the Project Library, simply drag the clips onto the timeline. From there, it's very easy to rearrange clips by simply dragging and dropping them into place.
If your clip needs trimming, highlight it and choose Trim from the Storyboard tools. Use the left and right handles to set a start and end for the video. This is useful if you just need to remove an annoying opening or ending from the video. When you're done, click Done.
To break longer videos into more manageable chunks, try using the Split feature.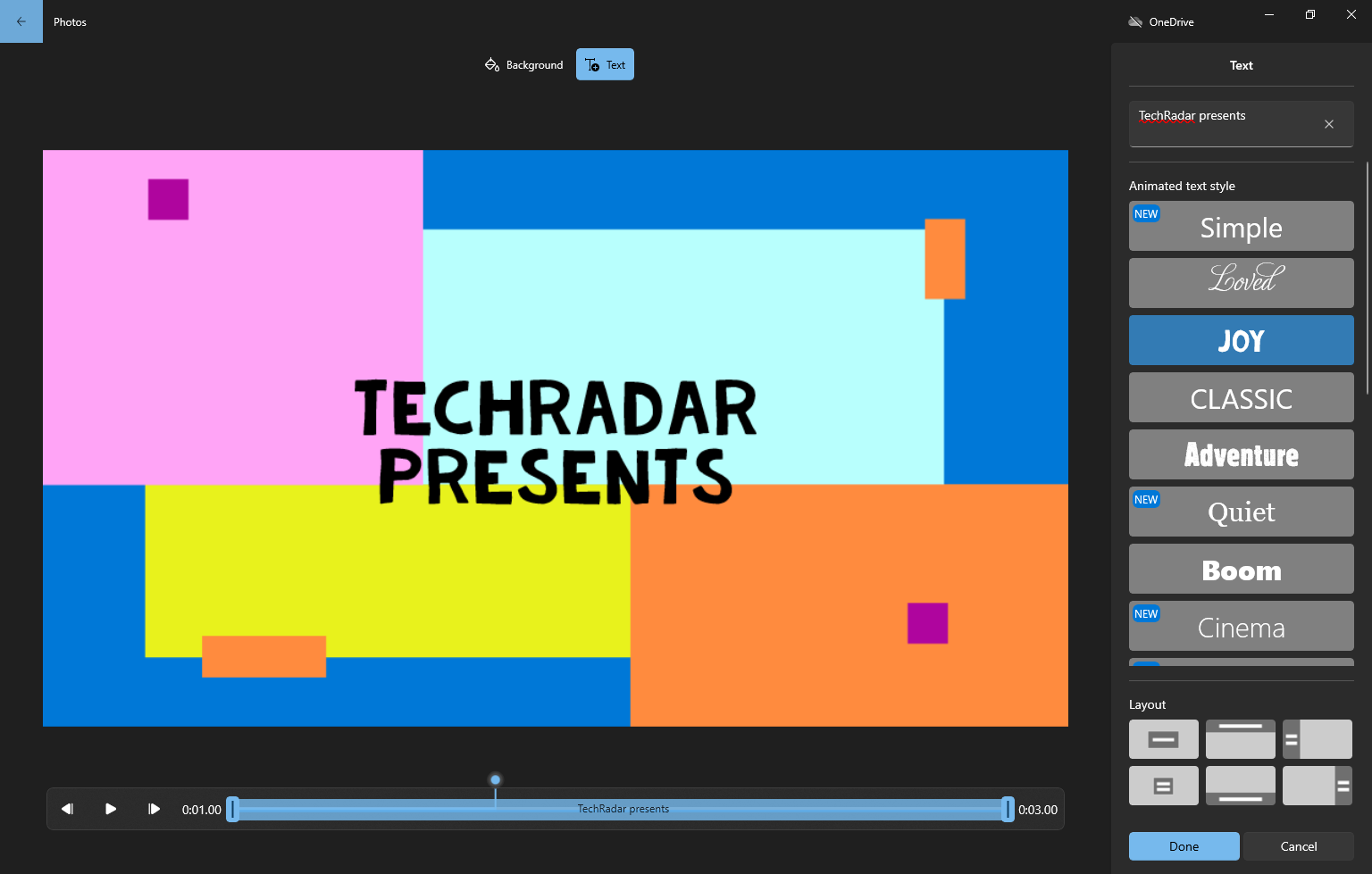 3. Add titles and effects
To add titles or captions to your video, click "Add title card." This places a new card at the beginning of your timeline, the Storyboard, but you can drag and drop it onto your video as needed.
Highlight this thumbnail, then click Text to edit the style and wording. There are many font designs and background maps to suit different tones. You can edit the duration of title cards the same way you trim videos, by placing trim handles at the start and end points.
If the video clip is at least two seconds long, the text will be animated when it appears. Choose a style from the list on the right (unfortunately, they're not customizable), then choose a position. When you're done, click Done.
To see the Motion option, make sure a photo or video is highlighted first. This option lets you add interesting panning and zooming effects that are particularly effective for still images. Select an image in the Storyboard then click the icon and choose a style.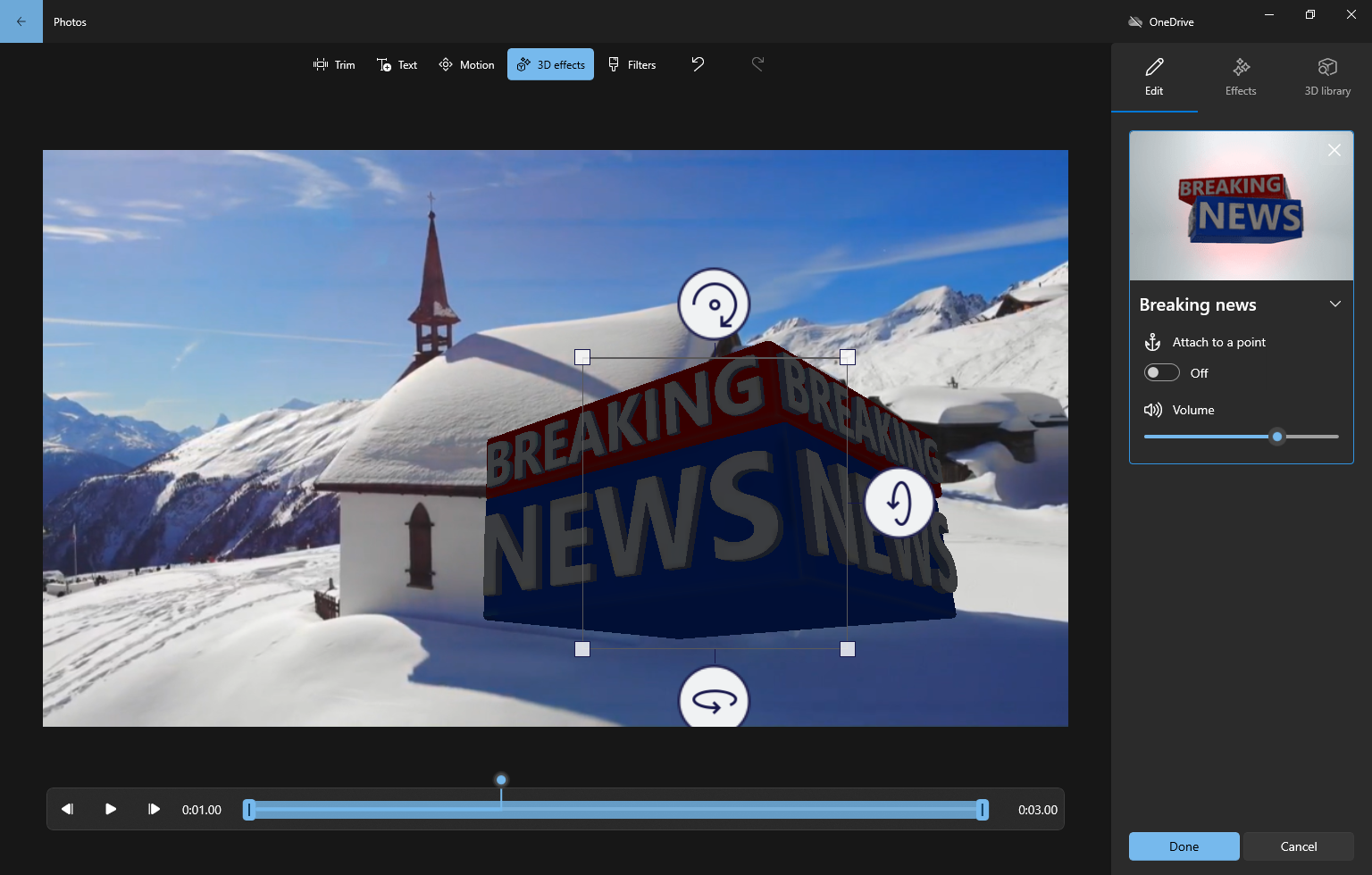 4. Add filters and 3D effects
To give your video a whole new look, select "Themes"; it's in the three-dot menu in the upper right corner. Each theme will add different music to your video, with appropriately styled titles. The application automatically adjusts the time of displaying the images to synchronize them with the music.
There are also Instagram-like filters to add some flair to your video. Click on a video clip or photo, then select the Filters icon and choose an option. All the presets have a vintage feel to them, and are unfortunately not customizable, but the selection is quite extensive. Choose, then click Done to confirm.
To make things more special, choose 3D effects. It is not a complete 3D modeling and rendering software, however. These are fun particle effects that you can use to draw attention to an element of your video. Subtle effects are usually the most effective, but they're fully customizable, allowing you to tone down the most dramatic effects. Move the green slider at the bottom of the preview window to choose when the effect should appear, and use the arrows to adjust its angle and direction.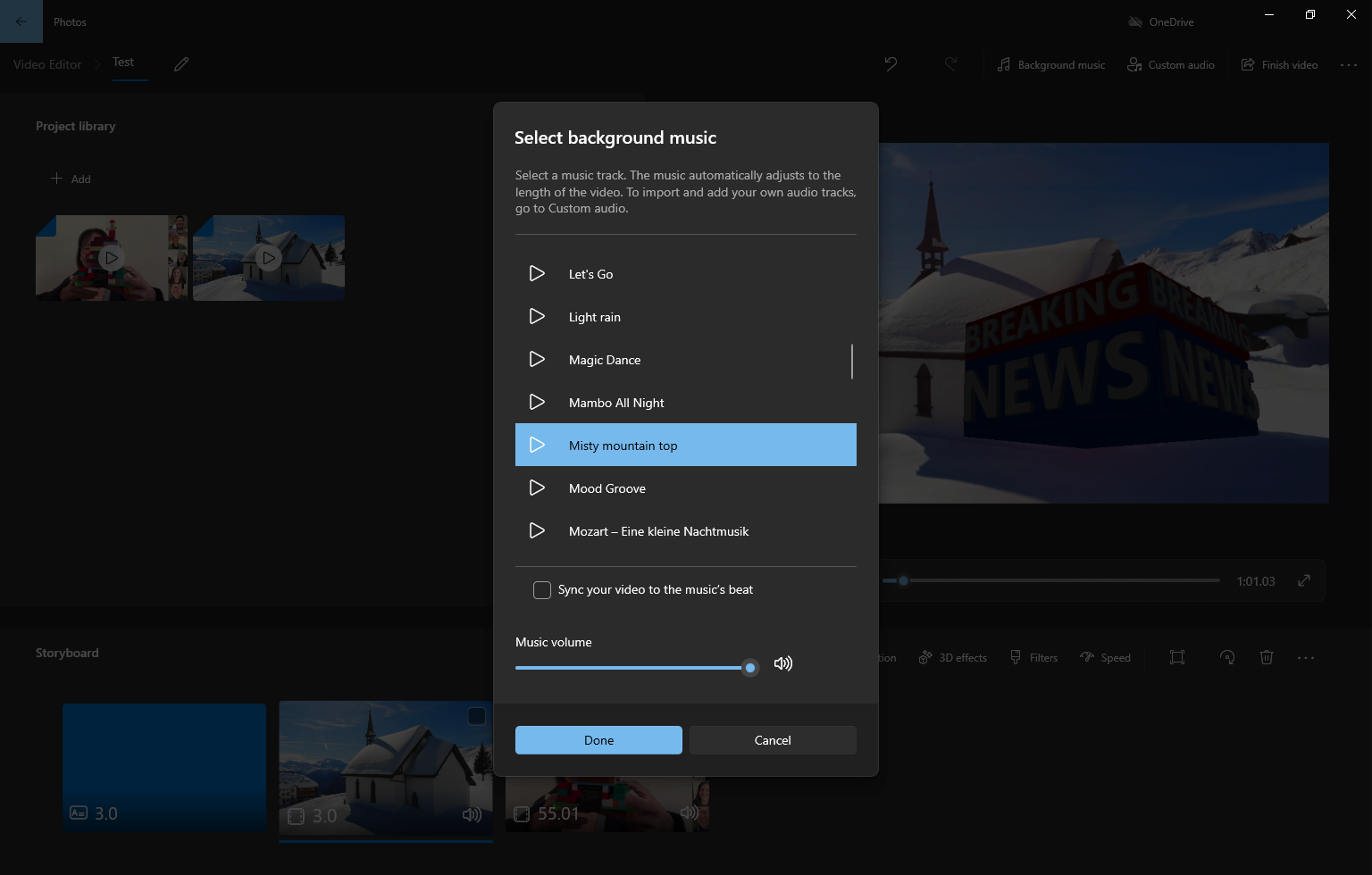 5. Change the music
You have two options for embedding music in your video. At the top right, there is a "Background music" option and, next to it, "Custom audio".
If you choose the built-in background music in the video editor, you have access to a small number of common audio files. Choose one, preview it and check the box "Synchronize your video to the beat of the music" to keep everything in order.
Custom audio, on the other hand, is just a place to upload your own recordings. So if you've created a narration for your video, this is where you add it to your video. Click "Add Audio File", browse in File Explorer to find your music, then click OK. The tracks will be added to your clip, which you can trim and move to the appropriate part of the video. Select Done to complete.
If the sound of one of your video clips is too loud and drowns out the music, right-click the clip and select "Volume" to reduce or mute it.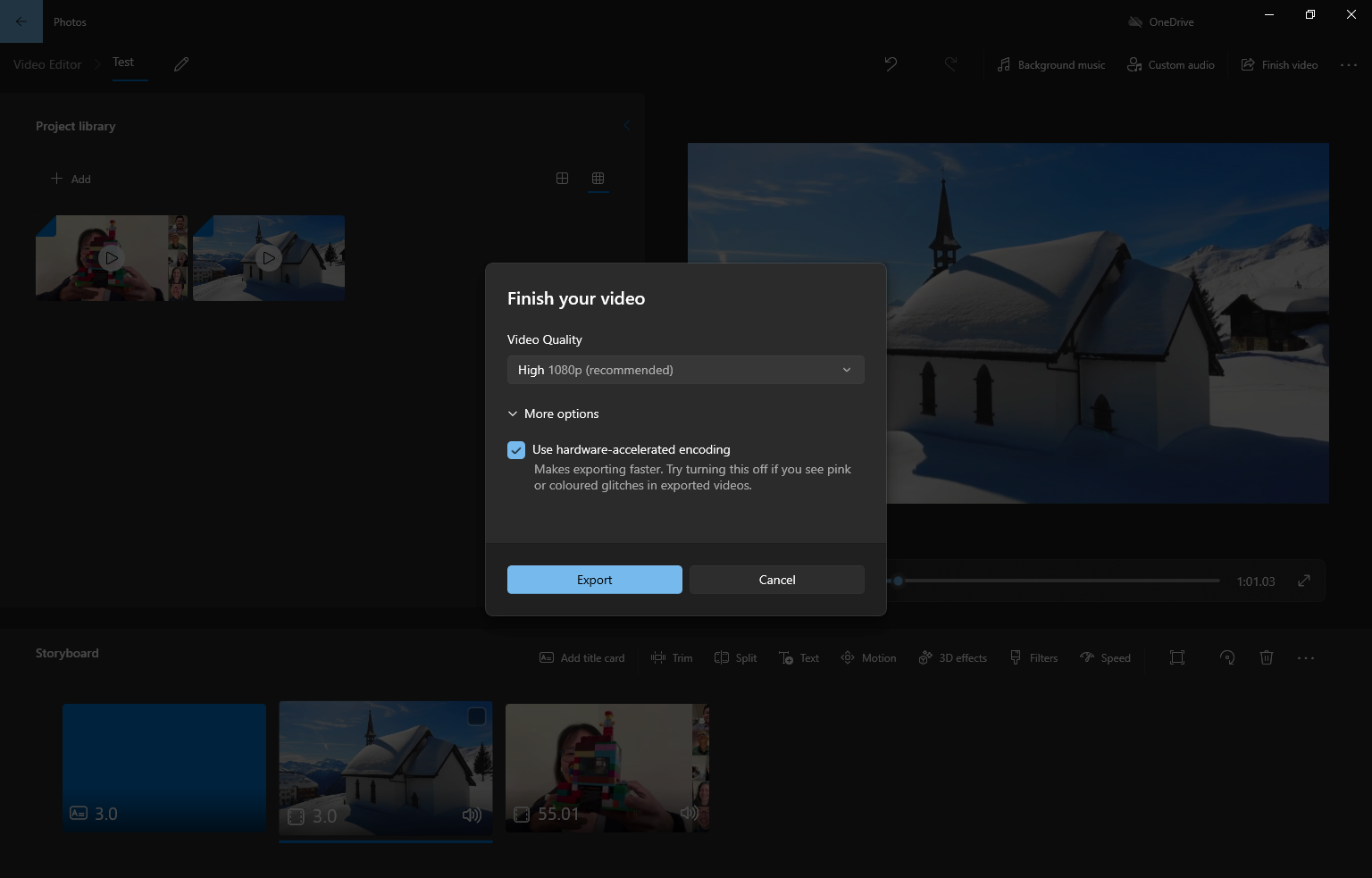 6. Save and share your video
When you're done, select "End Video" and select a resolution option (low, medium, or high). Your choice will determine the image quality, but you can't manually set the resolution or frame rate. The video will be available as a render (which may take a few hours depending on your hardware), encoded in MP4 format, and saved in your Pictures folder.
Once done, you're free to share your file so everyone can see your latest masterpiece.