3D and Oled in the menu of Asus laptops
Asus is firing on all cylinders at CES 2023 with several laptops including three Zenbooks and Vivobook Pro 16X specimens as well as a ProArt Studiobook with OLED screens.
CES is traditionally fertile ground in terms of new laptop announcements. And Asus is well and truly there with the latest Zenbook Pro 16X OLED (UX7602BZ) featuring an impressive 16-inch HDR 3.2K 120 Hz OLED screen in a 16:10 ratio, the panel of which reaches a brightness of 500 nits. The entire chassis will be built around a CNC-milled unibody design, just 16.9mm thick. Inside, it will pack up to 32 GB of LPDDR5X DRAM, up to 2 TB of PCI 4.0 SSD storage (on four ports) and a 96 Wh battery. Four Thunderbolt 4 ports are also present along with a Full HD infrared camera and an Asus haptic numeric keypad that is now 84% larger, Asus says. The keyboard will use per-key RGB lighting. A stylus is also available, with up to 4,096 levels of pressure sensitivity.
The Zenbook Pro 16X OLED (UX7602BZ). credit: Asus
According to Sascha Krohn, Technical Marketing Director of Asus, the manufacturer has worked closely with Intel on its Supernova SoM (System on Module) system, a board that integrates various elements (microprocessor, RAM, clock management and food …). This SoM (system on module) incorporates the latest 13th generation Intel chip and combines LPDDR5X memory with an interposer to increase the density of circuits and interconnect signals. It can push the performance to 155 W in the chassis. . On the chip side, we can see in the highest configuration an Intel Core i9-13905H CPU together with an Nvidia GeForce RTX 4080 GPU.
This lineup also includes the Zenbook Pro 14 Duo OLED (UX8402), an updated version of the Duo 15 OLED UX582, an editor-award-winning laptop with the latest CPU and GPU hardware. It will also include the Zenbook Pro 14 OLED (UX6404) and ZenBook 14X OLED (UX3404). The latter's viewing space has improved over the previous generation (14.5-inches vs. 14-inches) and includes a 120Hz OLED panel and Nvidia's optional RTX 3050 GPU. The Asus Zenbook Pro 16X OLED (UX7602BZ) will be available in the third quarter at a price of €4,999 excluding VAT compared to €2,999 excluding scheduled for the second quarter.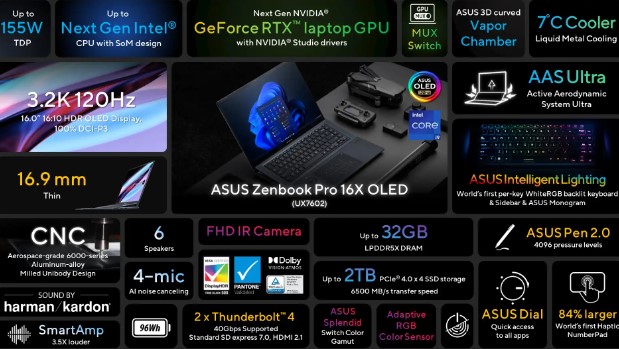 Zenbook Pro 16X OLED (UX7602) spec summary. (credit: Asus)
A Vivobook Pro 16X also appeared…
Alongside the Zenbook Pro 16X OLED spearhead, Asus also unveiled its latest Vivobook at CES 023, which made quite an impression. This Pro 16X model comes with the option of a 3.2K (3200 x 2000) 120Hz OLED display or a simpler (and likely cheaper) 2.5K 165Hz panel instead. Both offer 100% DCI-P3 color gamut coverage. Asus boasts an 88.6% screen-to-body ratio, along with a chassis that's 21.9mm thick and weighs around 1.9kg. The keyboard will be covered with Antimicrobial Guard Plus coating, which will be ergonomically designed.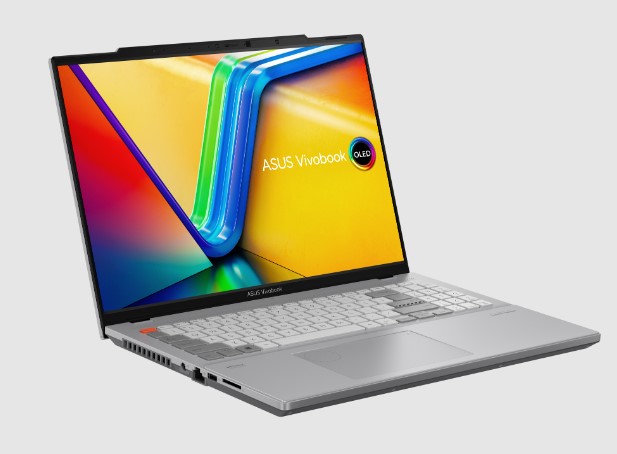 The Asus Vivobook Pro 16X. (credit: Asus)
In the Vivobook Pro 16X, we can find in the maximum configuration an Intel Core i9-13980HX, as well as an Nvidia GeForce RTX 4070 GPU. Asus will also include its IceCoolPro thermal management technology, which will likely increase the battery's weight by 90Wh . Up to 64GB of DDR5 and 2TB of SSD storage will be included. The 3D webcam can reach a resolution of 1080p. This laptop will also feature the Asus Dialpad, which has a volume control dial by default. The vendor also said that the laptop comes with a smart amplifier, which will be 3.5 times more powerful than usual. The Asus Vivobook Pro 16X OLED (K6604) will be available in Q3, Asus said.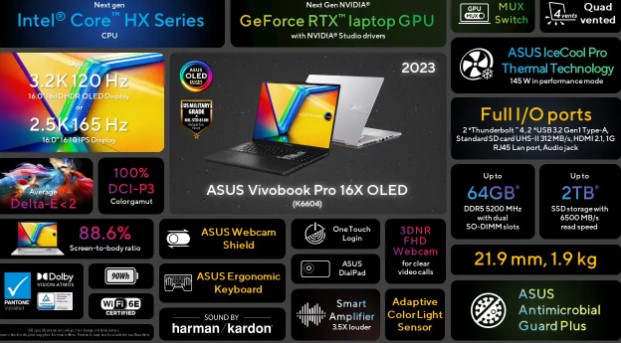 The features of the Asus Vivobook Pro 16X. (credit: Asus)
… without forgetting the ProArt Studiobook 16 3D OLED
Asus' third flagship laptop is also likely to carry a hefty price tag. Again, the focus is on the display: a 16-inch 3.2K (3200 x 2000) 120Hz OLED panel with 3D capabilities and 100% DCI-P3 color gamut. Here, Asus will use Intel's ultra-high-end Core-HX platform, presumably its next mobile processor, along with the latest Nvidia RTX graphics hardware. Asus claims that this laptop can be powered by up to 150W of power, aided by liquid metal cooling and up to 4 exhausts. Its battery will be 90 Wh.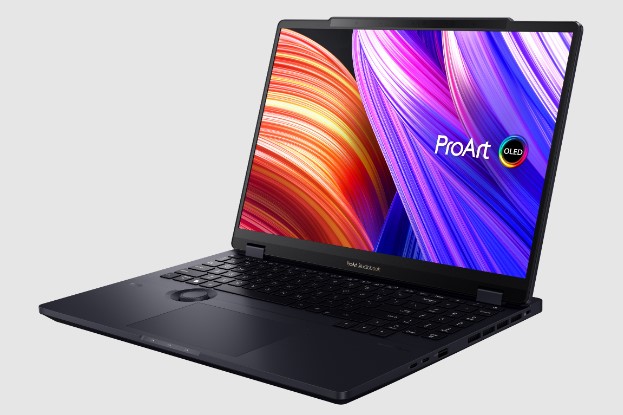 Asus' ProArt Studiobook 16 3D OLED (credit: Asus)
Along with a pair of Thunderbolt 4 ports, Asus claims to be one of the first to offer SD Express 7.0 card support with a speed of 985MB/s. HDMI 2.1 ports also appear. But that's not all: the manufacturer claims that the touchpad will be the first type of haptic that supports the stylus for drawing. The Asus Dial can be used to control volume or paired with the Asus ProArt Creator Hub utility as a launcher for popular applications. This ProArt Studiobook 16 3D OLED (H7604) will ship in Q2 at an undisclosed price.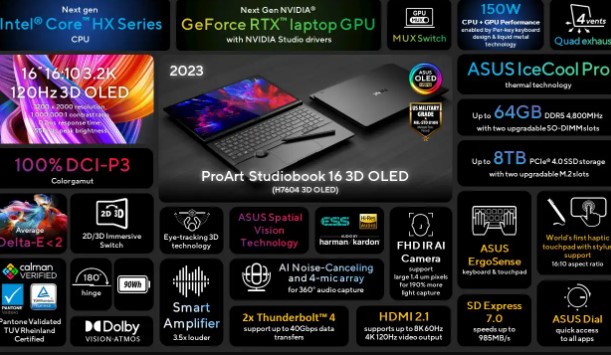 The features of the Asus ProArt Studiobook 16 3D OLED. (credit: Asus)