Video review – Dacia Spring electric 2023: mini restyling, maxi inflation
Star of the French electric vehicle market since March 2021, the Dacia Spring has received a slight brushstroke for 2023. Is this enough to justify its new tariff claims?
Dacia no longer wants to hear about "Low Cost" to focus on the right price. The Romanian manufacturer is therefore renewing its range with models with a sleeker design and modern equipment. Dacia Spring, the only 100% electric model in the catalog, economically follows this new trend.
Too timid developments
In this new vintage at the end of 2022 or 2023, the Dacia Spring is decorated with a redesigned grille that includes a new DC logo that can also be seen on the hubcaps. Same thing at the back where the tailgate proudly displays the DACIA name in white letters. The name Spring can be found in the form of stickers on the rear and sides of the car. A new khaki green color will also appear.
Inside, the changes are more subtle as only the Dacia inscription on the steering wheel differs from the first version. The manufacturer has also changed the name of the two trim levels, now called Essential and Expression instead of Comfort and Comfort Plus, but the equipment allocation remains the same.
A born city dweller
At 3.73 m long and 1.58 m wide, the Dacia Spring offers the perfect size for driving around town and parking in narrow car parks, especially since its turning circle of 9.5 m is quite short. . Having five doors and a tailgate also makes accessibility easier. The rear seats accommodate two adults of average size and the trunk volume of 270 liters is not ridiculous given the reduced size. We regret all the same that the bank is not divided.
Spring tries to make up for this with lots of storage space. Large and roomy door bins, generous central storage and a deep glove box are enough to make family references envious. The digital instrumentation and the small multimedia touch screen compatible with Apple Car Play provide valuable information and commendable ease of handling. Long live simplicity! Furniture made exclusively of hard plastics is certainly not very useful but looks durable, as well as synthetic leather seat covers, which are very easy to wash.
Also read
Dacia Jogger: all the prices of the first cheap hybrid
A shower of small flaws
The driving position does not deserve much praise. For the lack of adjustment of the steering wheel and seat height, templates over 1.80 m are likely to cause their right knee to trip over the too prominent ignition key whose barrel seems to be completely unchanged in a de -electric vehicle. The main flaw, however, remains the single wiper blade whose insufficient sweeping surface drastically reduces the visibility of the three-quarters in front of the driver.
Another criticism is the noisy and insufficient blower to clear the cabin with four people on board. Rain also harms the reversing camera, which is unprotected and suffers from too limited definition, especially at night. Too bad because the little Romanian provides a good level of comfort at low speeds thanks to its flexible suspensions that swallow speed bumps with relish. And if its accelerations are not transcendent, they are enough to develop in urban areas.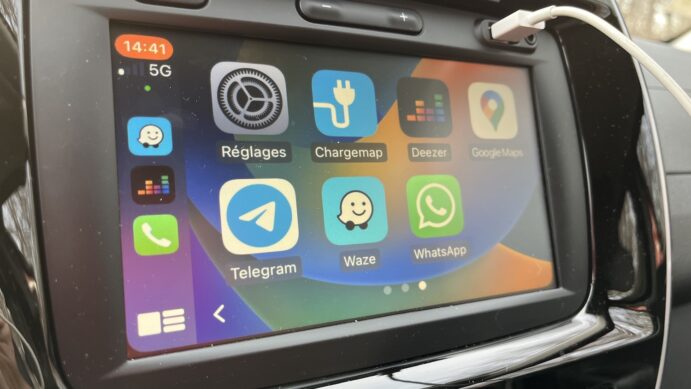 Safety in the background
On small roads, the small synchronous motor with a permanent magnet of 45 hp also does not disappoint as it gives noble reminders up to 80 km/h. On the other hand, the lack of precision and consistency of direction is felt from the first corner. The short-travel brake pedal associated with an over-sensitive amplifier appears too brutal and sometimes causes an unpleasant jolt. If we add to this a marked body roll (lack of stabilizer bars) and narrow tires with limited grip, it can be said that this Dacia Spring is not the most reliable.
Due to its light weight (970 kg), braking distances remain reasonable and the presence of the ESP anti-skid system avoids any risk of premature skidding or overturning in case of evasion. The presence of an automatic emergency braking system as standard is also worth mentioning. The fact remains that this Spring is satisfied with one star in the EuroNcap crash test and it does not inspire confidence on the fast track where it seems very sensitive to the wind edge and requires a lot of trajectory correction by dealing with direction is unclear. . Wind and rolling noises also encourage you not to exceed 110 km/h. The lack of cruise control proves that this car is not aimed at main roads.
Relative gentleness
Driving in the city or smartly on secondary roads, the Dacia Spring can settle on 13.2 kWh/100 km and flex around 220 km as Hugo Lara proved during his autonomy test until breaking down. During our winter test, we recorded an average consumption closer to 15 kWh/100 km, which allows for a 170 km range. On the expressway, calculate 18 kWh/100 km or even 20 kWh if you are moving at a maximum speed limited to 125 km/h (which is equivalent to 130 km/h on the clock). The 6.6 kW on-board charger allows full charging in 5 hours with a Wallbox. The CCS combo socket can receive up to 30 kW to fill up to 80% in less than an hour. But this socket is charged €600 as an option and reserved for the Expression finish, its price is no longer really competitive.
Rampant inflation
Invoiced from €20,800 (excluding bonuses) in the basic Essential finish and €22,100 in the Expression version (*price for December 2022), the Dacia Spring has undergone an increase of €3,810, i.e. more than 22% since its launch in March 2021 The reduction in the ecological bonus in 2023 (€5,000 instead of €6,000) also reduces the attractiveness of this small urban SUV imported from China. So it's tempting to turn to the second-hand market where you can find second-hand Renault Zoes, or even the trio of electric VW Up, Seat Mii and Skoda Citigo on sale until 2020.
We invite you to find our videos on Youtube. By subscribing and agreeing to receive notifications, you will be quickly notified of our new publications.
Also read
Video test – Renault Kangoo E-Tech: an electric MPV that is too limited
---