Samsung offers you a solution to do without a wallet
News JVTech Samsung offers you a solution to do without a wallet
Samsung has just formalized Samsung Wallet, a new platform that allows users of its smartphones to dematerialize their wallet to create a digital version. If this solution doesn't replace everything, it can still be a great service.
You may sometimes forget your wallet at home, but your smartphone is no less secure ! This is why the prospect of having a dematerialized version of certain elements in your wallet can be beneficial. This is what Samsung offers Samsung Wallet, a new platform made official by the South Korean company.
Samsung Wallet, the revival of Samsung Pay
With Samsung Wallet, the manufacturer combines Samsung Pay, its mobile payment service, and Samsung Pass, its secure identity management application through biometric data. The idea is to bring everything together in one service, while enriching it with additional features.
"Samsung Wallet is a very simple solution for smartphones, users can now have entry tickets in addition to services such as dematerialized car keys, their boarding passes, and more", manufacturer specifications. In addition to the possibility to make contactless payments on their terminal, owners of a Samsung Galaxy smartphone can also take advantage of an entry ticket option that can be dematerialized.
However, for now, partnerships seem to be limited to a handful of areas: The Palace of Versailles, the Atelier des Lumières, Bassins de Lumières, Carrières de Lumières and Caumont Center d'Art were mentioned by Samsung, which however announced " more partnerships to come ».
A simple dematerialized Samsung wallet?
Of course, if it is still possible to dematerialize the vaccination pass, payment card, loyalty card and some boarding cards to get on the plane, for everything ID Samsung can do nothing for you. Using Samsung Wallet will therefore not completely save you from using a physical wallet.
In contrast, the company completes its proposition by making its Wallet compatible with SmartThingsas well as to "15 home security companies supporting over 135 smart door locks" and includes some BMW car models. The proposal is quite clear: it is a question of allowing the user to unlock a front door or even a car door with his smartphone.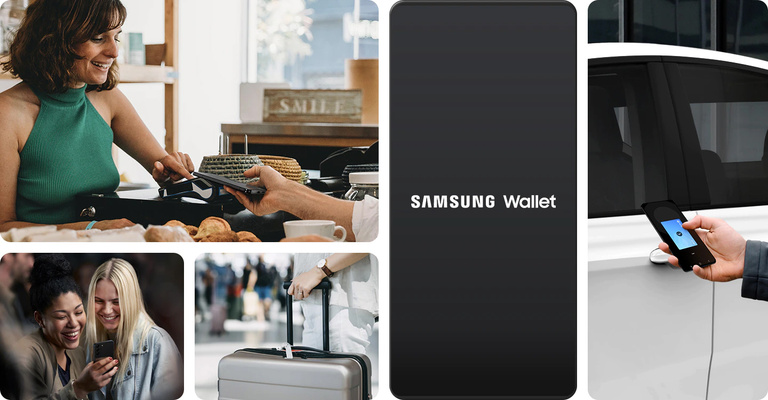 Samsung Knox is highlighted for the security part
Dematerializing the loyalty card does not have the same challenge as opening the BMW door with the same application. This is why Samsung immediately reassured the confused by saying this Samsung Knoxhim "defense standard security platform"is involved in the operation of Samsung Wallet.
"Protections include fingerprint recognition and encryption that protect sensitive data, so only the device owner can access their important information. With Samsung Knox, the information stored in Samsung Wallet is encrypted and stored in isolated environments, either the "Trusted Execution Environment" or the "embedded Secure Element" (embedded secure environment), a tamper- proof chip that resists digital and physical hacking. »
A situation that explains why Samsung Wallet is only available on the manufacturer's terminals, since Samsung Knox is exclusive to these models.."To start using Samsung Wallet, Galaxy users simply open the Samsung Pay or Samsung Pass app on a compatible Galaxy device and follow the prompt to update the software, or visit the Galaxy store »ending with the brand.