Features, Prices and News!
Lenovo recently released the ThinkPad X13S. With this newcomer to its emblematic range, the Chinese firm introduces many innovations, particularly in ARM.
The latest generation of chips is also included in the device to compete with Apple's M1 and M2. Between the sleek design and detailed software architecture, explore the features of Lenovo ThinkPad X13S !
The main features of the Lenovo Thinkpad X13S 2022
Processor
Snapdragon 8cx Gen 3
Graphic card
Qualcomm Adreno GPU Snapdragon 8cx Gen 3
RAM memory
16/32GB LPDDR4x 4266MHz
Screen and display
13.3″ WUXGA (1920 x 1200) IPS, anti-glare, 300 nits, 100% sRGB

13.3″ WUXGA (1920 x 1200) IPS, anti-glare, touchscreen, 300 nits, 72% NTSC

13.3″ WUXGA (1920 x 1200) IPS, anti-glare, low power, 400 nits, 100% sRGB, low blue light

Connectivity
Wi-Fi 6E, Bluetooth 5.2
Battery capacity and life
Li-Po 49.5Wh
Storage capacity
256GB/512GB/1TB PCIe SSD Gen 4
Weight and size
1.06kg — 13.4 x 298.7 x 206.4mm
Operating system
Windows 11 Home ARM

Windows 11 Pro ARM
Processor
The Lenovo Thinkpad X13S is equipped with one of Qualcomm's most coveted high-end chips. Designed to compete with the American giant's Apple M1 chip, the Snapdragon 8cx Gen 3 sets the bar for relatively high performance.
In its eight hearts that ascend to 3GHz often, the engine allows fairly seamless interface navigation. However, since the Lenovo Thinkpad X13S is not geared towards gaming, it can slow down a bit when pushed a bit too hard.
However, for all office automation and computer programming, the performance of the X13S chip is more than satisfactory.
Graphic card
As with its processor, Lenovo innovates by including the Qualcomm Adreno GPU Snapdragon 8cx Gen 3 on the ThinkPad X13S. With this chip, ARM has helped achieve significant improvements in device performance.
In particular, it makes possible compatibility with 5G with throughput limited to 3.7 GB/s. This performance is amazing. There are also great features like active noise reduction Qualcomm Voice Suiteand thealways on the camera .
Screen and display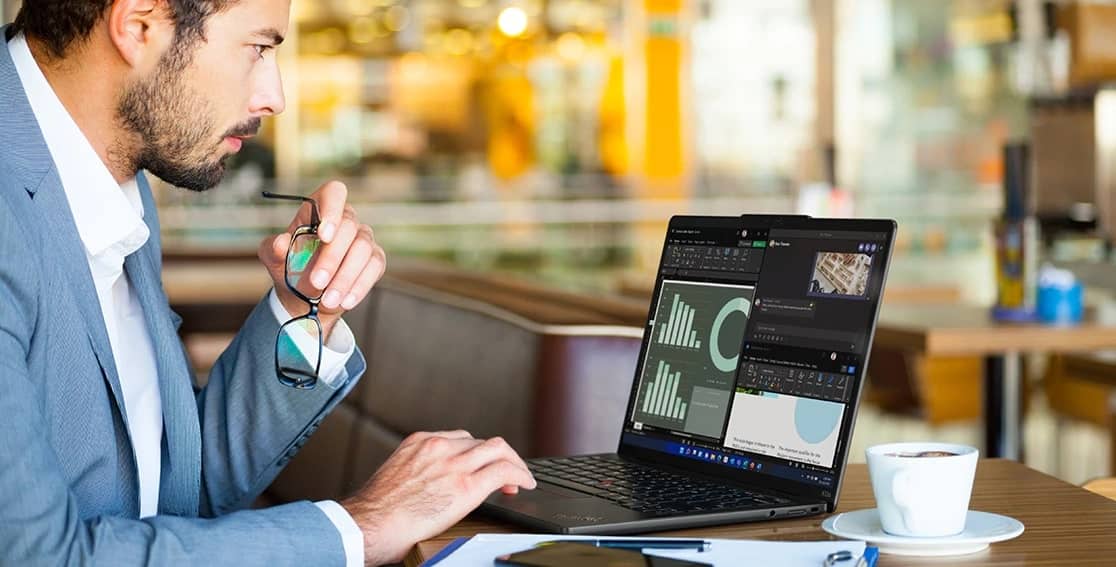 Lenovo remains very modest with the screen panel of the 13.3 inches of his ThinkPad X13S. Depending on your preferences, it is possible to choose a model with a touchscreen option upon purchase. The screen equipped with technology LCD offers a significant resolution of 1920 x 1200 pixels with 60Hz maximum refresh rate.
Despite its matte coating, the panel allows the user to enjoy the maximum brightness of 451 cd/m2. The Thinkpad X13S thus offers an impressive quality in the colors of the images provided by the screen thanks to its remarkable contrast.
To avoid some inconvenience, Lenovo made a anti-glare treatmenton his ThinkPad X13S. So there is no fear to have even after many hours of using this machine. Reflections are almost non-existent.
Lenovo Thinkpad X13S connectivity
To make it easier for users to access various media, the ThinkPad X13S features essential ports. On the left of the device are two ports USB Type-C 3.2 Gen 2 . They can be used for charging as well as for data transfer.
On the other side is a Jack plugand one SIM card drawer . However, there is no VGA or HDMI output for sharing video content. Lenovo has been more stingy with connectivity options by excluding USB type A ports from its PC.
Wireless networks are more interesting. Lenovo Thinkpad X13S features Wi-Fi 6E and Bluetooth 5.2 technologies. The SIM drawer is designed to accept hardware compatible with 5G millimeters to stay connected even on the go.
Autonomy
Battery life is one of the main advantages that Lenovo highlights in this ThinkPad X13S. It is designed with a 49.5 Wh battery that can easily last a full workday with continuous use. By using native applications, one can have a little more than 24 hoursautonomy.
Storage
This Lenovo Thinkpad model has a storage capacity that can vary from 256 GB to 1 TB. This storage capacity is given by a PCle Gen 4 SSD drive. That is why it is possible to store all kinds of data and access is very fast.
In terms of RAM, this X13S does not lag behind 16 or 32 GB RAM LPDDR4x at 4266MHz . This amount of RAM allows you to run most games and applications with great fluidity.
Keyboard and touchpad
Aside from the screen touch interface, the ThinkPad X13S has a pretty decent keyboard and touchpad. The lightnessThe keyboard keys are one of the things that make the X13S keyboard one of the best of the recent releases. Despite the activation distance quite narrow it's quite a comfortable keyboard to hold.
Obviously, Lenovo is not changing its recipe with ThinkPads and keeping its emblematic stick red on the X13S. For those who love precise mouse movements, this little button will be very useful on a daily basis. Both sensory and physical, it track pad Placed between the keys is perfect for PC creators.
The plastic touchpad is designed with finesse for smooth use to avoid fatigue. Physical keys are integrated above the keypad for better convenience. A fingerprint reader quite narrow can also be used in the pad.
Design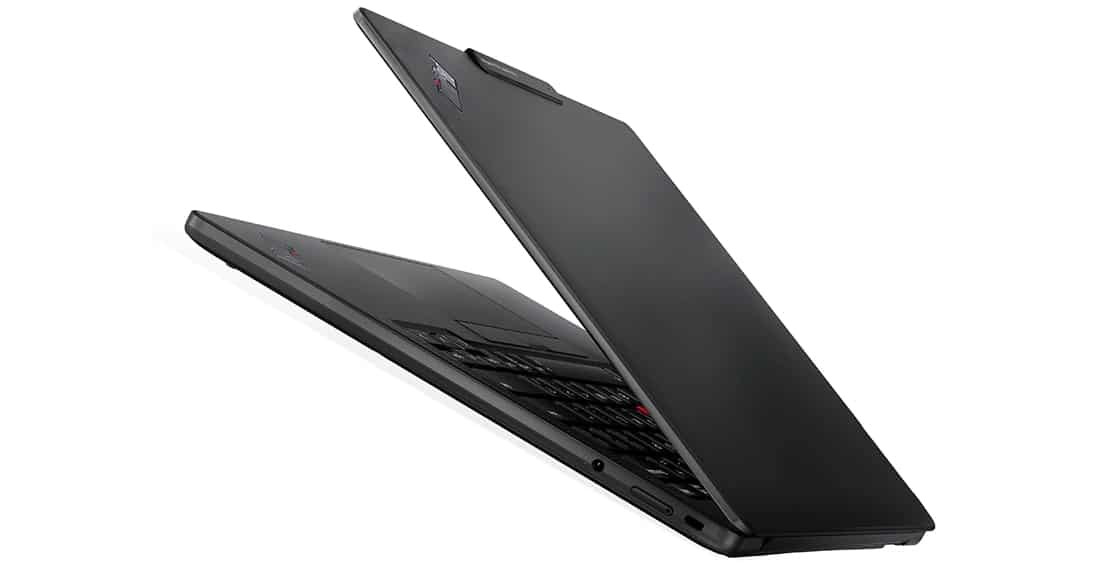 With the ThinkPad X13S, Lenovo is betting on a ultraportable laptopwith particular emphasis on solidity. With its frame made of ultra-lightweight recycled plastic, the device weighs just a little 1.06kg. It is quite perfect for mobile people.
To prevent accidental slipping, the frame is coated with magnesium . The very thin thickness of the X13S which is only 1.3 cm closed makes it easy to hold and portable computer.
On the purely aesthetic side, aside from the ThinkPad logo and the standard red slider, the X13S doesn't really differentiate itself from the rest. In this model, it is obvious that the watchwords are efficiency and sobriety, hence its very minimal design.
Operating system
Lenovo ships its ThinkPad X13S with Microsoft Windows 11 by default. Because of the Qualcomm chip, it is a version Windows 11 On ARM which is also mobile friendly. Recently, a 64-bit application emulation is available to enhance the user experience on this operating system.
To have better control over the device, it comes with software Vantage which allows you to adjust the settings. No adware integrated into the software space for greater freedom of use.
Other features
The Lenovo Thinkpad X13S has speakers that are a very nice surprise. Very discreet, they are placed on either side of the keyboard. The sound emitted is quite well defined when the near absence of bass due to the size of the speakers. However, the content remains pleasant to listen to, especially with the treble well highlighted.
A 1080 pixel webcam is integrated above the X13S screen. In its interesting sense, it is more than enough to ensure videoconferencing sessions. He is Windows Hello compatiblebut it can also be cut to save autonomy.
To maintain the efficiency of the ThinkPad X13S design, Lenovo has not included an active fan. Thus, the entire cooling process is done passively, which guarantees the absence of noise.
The price of Lenovo Thinkpad X13S may vary depending on parameters such as built-in RAM and storage capacity. For a model with a hard disk of 256 GB and 16 GB of RAM, it is necessary to count from 1709 eurosin France. For all the features offered, it is quite reasonably priced.