Video test – Volkswagen ID.Buzz: crazy van
The 100% electric Combi of the modern era offers great dynamic performance and a spectacular appearance. But he deserved two more places and a finish worthy of his crazy price.
Based on the platform of the other 100% electric models in the ID range, the Volkswagen ID Buzz uses the same permanent magnet synchronous motor and the same lithium battery (nickel manganese cobalt type) with a net capacity of 77 kWh. ID Buzz is mainly distinguished by its neo-retro design that drives passers-by crazy. During our test on the Ericeira side in Portugal, local surfers looked at us lovingly before approaching us to find out more. It must be said that our two-tone test model (option at €1,790) with 21-inch rims (€980) is not lacking in style. Its success therefore seems certain regardless of press opinions in the same way as the Mini Cooper SE from BMW or the latest electric Fiat 500. We also wonder why the designers at VW did not think of making a "revival " of the first generation Golf, taking inspiration from the timeless lines of the Giugiaro, rather than the empty ID. 3. Hopefully the VW ID Buzz will give them ideas for the future.
More space for luggage than children.
With its length of 4.71 m, the German van maintains a reasonable size. On the other hand, its width of 1.99 m without mirrors can be a problem for entering narrow car parks and parking without "rubbing the rims". That said, its very short turning circle (11.1 m), its excellent visibility and its elevated driving position make it a pleasure to drive around town. It just lacks the more pronounced regenerative braking that allows it to stop so well in urban use. On board, the VW ID Buzz also manages to combine friendly atmosphere and practicality. The colors are bright, the storage space is spacious and the connection sockets are plentiful. The large boot (1,121 to 2,205 liters in volume) shines in its accessibility thanks to the low loading sill and high loading height. The additional floor (€670) makes it possible to build a surface when the rear bench seats are folded, but significantly reduces the loading volume.
We'd prefer that VW offered two more rear seats, especially with armrests and cup holders on the trunk walls. But, for now, these additional seats are not listed in the catalog. The manufacturer seems to be struggling to offer a 7-seater version that remains approved in the light vehicle category. The VW ID Buzz actually weighs 2,407 kilograms in the 5-seater version. This is 373 kg more than a VW ID.4 which is however not a featherweight. Thanks to its width and great height, the VW ID Buzz welcomes its rear passengers like princes. Wide sliding doors make life easier, especially when electrified (€1,930). A 15 cm sliding bench seat with reclining backrests is fortunately part of the standard equipment. However, it does not have Isofix fixings in the middle. More unfortunate with 171 cm of elbow room, there is plenty to accommodate three car seats.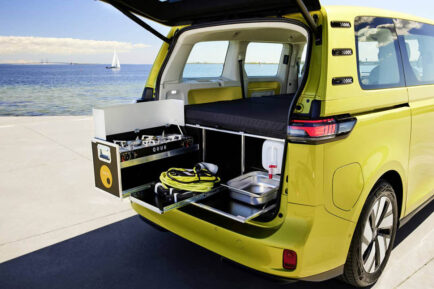 Plastic toys
Another disappointment is the quality of the finish. All the fittings are made of sturdy plastic and the door seals are not too thick. The soundproofing also seemed very light to us, with wind whistling from 90 km/h and very clear noises. Opening the small plastic front cover also reveals unattractive undersides. The multimedia set is also not among the genre references. The screen responds quickly and has good graphics, but the ergonomics of the ventilation controls leave something to be desired and the physical buttons on the dashboard like the steering wheel lack precision.
Buzz Lightyear's van
The VW ID Buzz won us over with its handling and performance. In 10.2 s from 0-100 km/h, it jumps like a child and gives good reminders to overtake in the fast lane, although the top speed is limited to 145 km/h which can be frustrating to highway. Well planted on its supports, this heavy machine stood straight round and round and didn't pump over the undulations. Despite the lack of pilot suspensions (not available on this model) and the presence of large rims, the damping seemed tolerable to us and well calibrated. Braking also seemed to bite us, even at low speeds. Beyond 120 km / h, the heavy machine with rear drums admits its limitations. A feeling of softness enhanced by a lack of bite and brake pedal development. The driving aids are fairly well calibrated, but active cruise control is also an option in an overpriced pack (€2,170).
A flirtatious consumption
On the consumption side, the manufacturer announces 21.7 kW/100 km in mixed use in a version equipped with 21-inch rims. During our test conducted mainly on the Portuguese motorway (limited to 120 km / h), we recorded 27.9 kWh / 100 km on average in one hundred kilometers. In mixed use, you can expect an average of 24 kWh/100 km. To get below 20 kWh/100 km, you will need to use hipster speed like our colleague Soufyane Benhammouda on his trip along the coastal roads and where you will soon read the report. The actual autonomy therefore varies between 250 km on the highway and 380 km in the city, knowing that the manufacturer indicates 419 km WLTP in mixed use, or 60 km less than an ID.4 with corresponding motor and batteries. For charging from 5 to 80%, count 30 min in a direct current (DC) fast terminal with a maximum power of 170 kW. With an alternating current terminal, the 11 kW on-board charger allows a full tank in 7h30 minimum.
A 5-seater 5 stars.
Shown from €57,000, the VW ID Buzz claims €3,500 more than its cousin the ID.4, which may seem reasonable given the additional loading volume on offer. Only the standard equipment turns out to be bad. With 13,760 € of options, our test model asked for 70,750 €. It is certainly cheaper than a Mercedes EQV or a Tesla Model X. But the star van carries 8 passengers while the American SUV offers 7 seats and better energy efficiency. However, the VW ID Buzz relies on its more measured size, its usability and especially its devastating looks to distinguish itself.
Also read
Test – Volkswagen ID.3: the charging and travel times of our Supertest