Despite the influx of frustrated Twitterers, Mastodon regulars don't believe in a long-term trend
Ever since Elon Musk acquired Twitter, many Internet users have decided to switch to Mastodon. Some, however, took the plunge much longer ago.
There are still people who are groping about using Mastodon and trying to understand how this social network works. And there are those who already have a good command of special platform codes.
Finding people who have invested in Mastodon for a few months, or even since its debut in 2016, is not the most difficult task. But contact them on the other hand… On Mastodon, there are no private messages. You have to write a toot (equivalent to a tweet), mention the desired person and then tighten your toot to the same person mentioned.
In other words, an obstacle course to have a normal conversation. But Mastodon aficionados are used to it. And the reasons that lead them to invest in the social network are many.
Get rid of the giants
The number 1 objective of Mastodon is to create an alternative to the big companies in the sector, such as Facebook, Instagram or Twitter. Therefore, users of this type of network mainly want to escape from the giants, who are often considered a threat.
Mastodon is often avant-garde, developing certain functions long before its competitors, such as content-warning (content flagged as sensitive) or messages restricted to part of its community.
Allan, a technician for a large telephone operator, invested in the platform in 2017. "I tend to go and try new things, especially when they are alternatives to GAFAM. I don't really like big groups that decide everything and ignore my personal data."
It's the same story for Gee, illustrator artist and computer engineer, who created his Mastodon account in 2017. The mastonaut with 3,500 subscribers is, among other things, a member of the Framasoft association, which works in digital education that issue. The association is therefore looking for alternatives to large companies. They even have their own instance of Mastodon, Framapiaf.
However, the engineer explained that he continues to use Twitter, in the same way as Mastodon: "I continue to publish my drawings in both applications. Twitter allows me to have an echo, with a publication that sometimes it can 'slip through'. But Mastodon gives me better visibility, because there are fewer people, my publications appear more on users' timelines." And the numbers speak for themselves: Gee now has twice as many followers on Mastodon as on Twitter.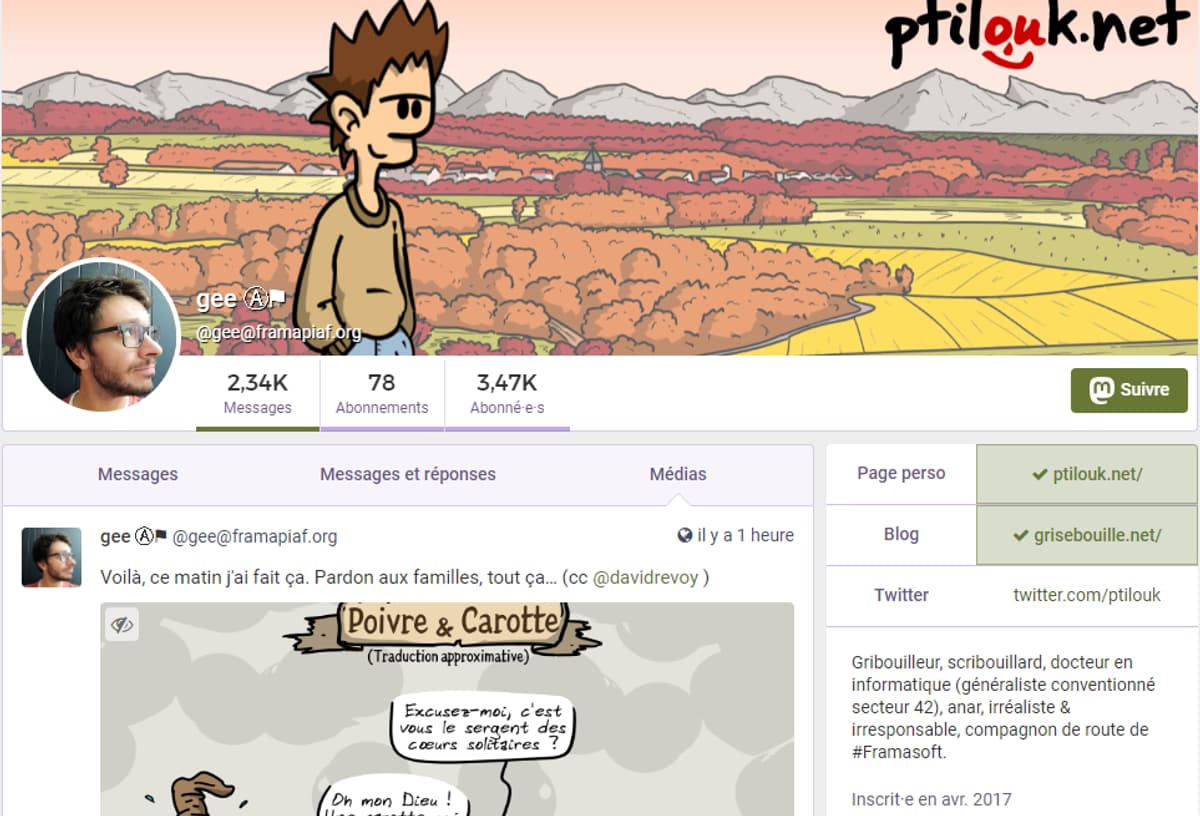 It should be noted, however, that most former mastonauts come from the same background: lovers of new technologies. Technicians, engineers or computer science students, Mastodon users all have a strong attraction for this universe. And this is what often motivates them to put their suitcases in this little exploited territory.
A haven of peace
For these confirmed mastonauts, Mastodon also represents a space of freedom, away from the frequent judgment and controversy on Twitter. Allan insists that Mastodon has become a safe place (safe place, editor's note) to share things in life without wanting to tell everyone. "It's more personal, I haven't sought to develop my network here, I just have a few close friends."
Hakim, 27, a master's student in computer science at Lyon 2 University, also appreciates this peace of mind on the network.
"I have a fairly large contingent of subscriptions and subscribers on Twitter so Mastodon is a bit of fresh air in a small committee, without being bombarded with notifications" confided the student.
It's true that even with the wave of newcomers to the platform, Mastodon is still far from the presence of Elon Musk's social network. The massive influx of frustrated Twitterers helped Mastodon surpass the 3 million user mark. But faced with more than 430 million Twitter users, it's hard to measure. So calm still reigns, but for how long?
A fast wave?
Everyone agrees: Twitter will not collapse. And Mastodon won't lose to newcomers forever. "We've had waves before and it always goes down. Even if Twitter is paid and no one goes there, I'm convinced it won't work" concedes Allan.
"At the server level it will never follow because it is an independent and non-profit network" continued the technician.
Small incoming spikes have been observed many times over the past few years, especially after every major Twitter update. The wave was accentuated last April, during the rumors of Elon Musk's takeover of Twitter, before arriving at the one we know today.
But the complexity of Mastodon remains to be pointed out, even by regulars like Gee: "What scares and puts some people off is the user experience which is obviously "rougher" than Twitter, but you have to get used to it here. It also has an impression of emptiness that is still there. When you arrive, you want to leave immediately when you see how few people there are."
However, regulars know one thing: it's still hard to give up on Twitter completely. The platform remains necessary to create a network or a community, to communicate with one's acquaintances or to find out about current events. "I hope for the people working at Mastodon that the boom lasts. But if I'm being realistic, it's going to be complicated" agreed Hakim.