Twitter's replacement is here, here's how to use it!
News hardware Twitter's replacement is here, here's how to use it!
Since Elon Musk came to the head of Twitter, another social network, which has been forgotten since 2016, has recorded a huge influx of users who want to leave the blue bird. Will this competitor replace Twitter? The question still remains.
Is Elon Musk causing the end of Twitter?
Elon Musk's landing at the helm of Twitter has had the consequence of reviving a social network … but not the one the entrepreneur wanted – not agree. If there is a clear winner of the arrival of the billionaire in the offices of Twitter, it is without a doubt Mastodon, the open-source, decentralized microblogging platform that many consider an alternative to Twitter. Although its numbers are still far behind those of bluebirds, it is clear that the increase in mammoth users should not be ignored.
A week ago, Eugen Rochko, the developer and promoter of the microblogging service, confirmed that the various Mastodon servers have 199,430 new users registered since October 27. A date that oddly coincides with the Twitter takeover date. "This brings the total for the last day to 608,837 active users, which is, unprecedentedly, the highest number ever reached by Mastodon and the fediverse"even said the German developer, who also mentioned the creation of 437 new servers.
This user migration is also explained by a series of decisions made by Elon Musk, which are far from unanimous. Worried about possible changes in moderation regulations, angry at the sudden layoff of thousands of employees, or rejecting the idea of ​​a paid subscription to the network, thousands of Internet users are looking for a new nest – or rather a new cave. And some therefore seem to have found it in the Mastodon. According to the calculations of our colleagues from Techcrunchfrom last Friday to Sunday, the mobile application recorded about 91,000 new installations, a 658% increase compared to the 12,000 installations recorded in the previous three days.
For those who don't understand, Therefore, Mastodon is a free and decentralized social network that has been gaining popularity since Elon Musk's acquisition of Twitter. But the Mammoth doesn't work like all the other RSs. You may not know, but the main social networks we are used to are centralized. This means that all data is stored on a server owned by a company, and the entire social network forms a single whole.
But with Mastodon, things are different, because the latter is divided into several servers to form a whole. When you register on this social network, you have to choose a server – a bit like in an MMO – to create your account. For example, if I want to register as NilloF, and I do it from the mas.to server, my login address will be mas.to/@NilloF. However, if I register on a different server, the address to access the content will be different.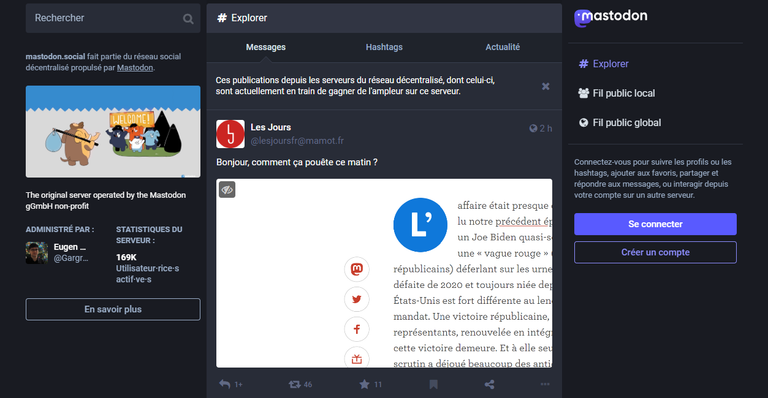 However, registration on a dedicated server does not completely limit access to the content of other servers. At Mastodon, users have access to two types of newsfeeds: one linked to our server and one linked to all servers connected to them.. To make it clearer, you have to say that the mammoth is a constellation consisting of different planets.
In pure usage, Mastodon is very similar to Twitter, except that "toots" replace "tweets". As in the blue bird, it is possible to post messages of 500 characters (and edit them), send private messages to users, but also perform a search or follow current trends. Small difference between the two, mammoth does not allow the possibility to like a post, but rather mark it as a favorite.
For now, therefore, it's hard to say whether Mammoth will one day completely replace Twitter or not.. However, if Elon Musk continues his drastic "reform" of the social network, it's a safe bet that the blue bird will continue to lose a lot of users. To be continued…