How to use Mastodon, the alternative to Twitter
Since the acquisition of Twitter by Elon Musk, more and more users want to leave the platform and are looking for other platforms similar to Twitter. Mastodon is the quintessential alternative to Twitter on paper but still stands out for being decentralized (various servers), open source (contributions from the community), no advertisements and no invitations to discover profile. The limit on the amount of text for a post is also wider: up to 500 characters (against 280 characters on Twitter).
In a tweetMastodon puts its philosophy in a clear and straightforward manner, showing a strong desire to stand out from Twitter: "We present a vision of social media that cannot be bought and owned by any billionaire. Your ability to communicate online should not depend on a commercial company alone! »
Learn how to access Mastodon and how to use it.
1. Access Mastodon on PC or Mobile
To use Mastodon on PC, you can go to the web version and click on Find a server to start the.
You can also download the Mastodon mobile app:
2. Choose the right server
Unlike Twitter, Mastodon is a decentralized social network, so you must choose a server (also called an "instance") where you want to create your account. Each server is managed by an independent structure or person, which means that the rules can vary in terms of policy and moderation. Mastodon ensures that its servers continue to be committed to moderation against racism, sexism and transphobia. Currently, the main server is that of Eugen Rochko, founder of this platform: mastodon.social.
Here is the list of servers available on Mastodon. You can filter them by language if you only want to access those in French.
Mastodon explains how it works: "With one account on one server, you can track anyone on the network, no matter where their account is hosted. You'll see their posts in your main feed, and if they follow you, they'll see your posts in their home feed. »
Good to know: server selection is irreversible. You can transfer your profile to another server at any time. And if you want to have more control, you can also create your own server.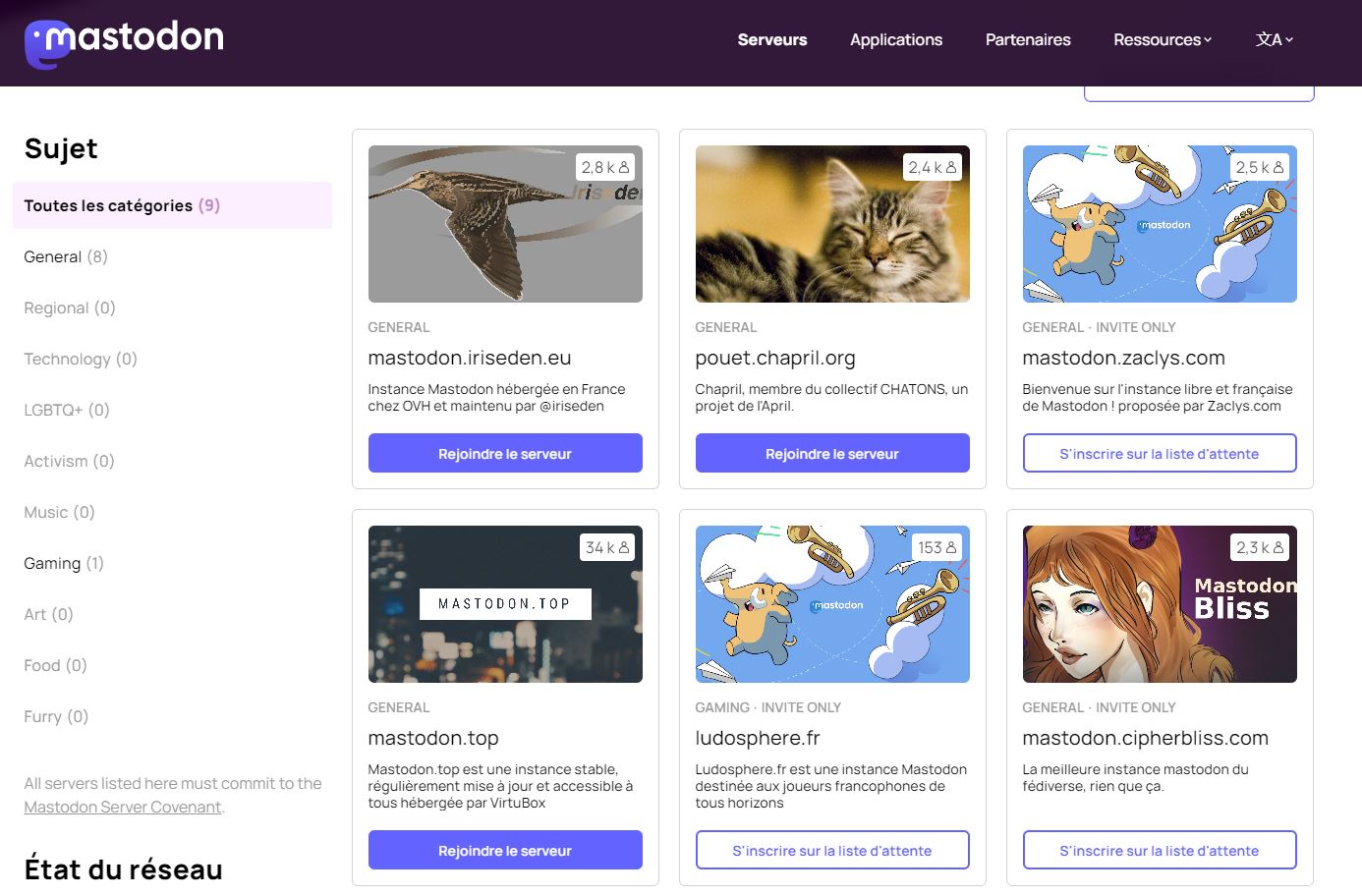 3. Set up your Mastodon account
After joining a server, you can:
Choose your ID: @yourname@instance. Choosing a name is important because it is not easy to change it later.
Find people to follow: Mastodon suggests people to follow on the server you've joined. You have the option to search for people via the search bar or by section #Explore. You can also try the Twitodon tool to find your Twitter contacts.
Customize your Mastodon profile: just like on Twitter, you can add a profile picture, change your display name, and add information to your bio. On mobile, you can do this by clicking on the Mastodon logo icon. On the web, just click change profile under your name.
4. Using Mastodon: what you need to know to get started
When you are in the interface, you have access to 3 discussion threads (they all work in chronological order):
welcome : you can see all the publications of the people you follow, regardless of the server they are located on.
Local public thread: you consult all public publications of the members of your server.
Global public feed: you can see the public publications of the members of your server but also of the accounts they follow.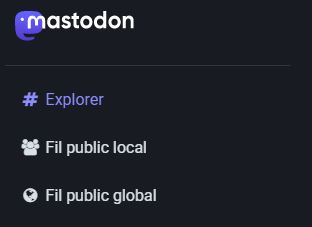 The language to know about Mastodon:
"pouets" or "toots" correspond to tweets,
Repost means repost or retweet.
When you publish a message (pouet), several options are available to you:
Audience: everyone can see the message.
Not listed: public post but only people mentioned or browsing your profile can see the post.
Subscribers only: post partially public, only your followers can see your posts.
Direct : private message, only the people mentioned can see your message.
Mastodon supports:
Text, photo, video and audio publications,
Accessibility descriptions,
polls,
Content warnings,
Animated avatars and personalized emojis.
Good to know: it is recommended to use hashtags in your Mastodon publications if you want to gain visibility. The platform uses text search, and it doesn't limit the reach of a post based on the number of hashtags you use.
Need to know more? Consult the French Mastodon guide.
5. Connect your Twitter account and your Mastodon account
Good news ! It is also possible to connect your Twitter account and your Mastodon account to activate cross-posting. Actually, you can publish toots on Twitter but also vice versa to publish tweets on Mastodon. To do this, just go to the site masto.donte.