ASUS ROG Strix Z790-E Gaming WiFi, high-end for gaming in Raptor Lake
Before a more detailed test on the performance side of this motherboard, here is an overview of the ASUS ROG strix Z790-E Gaming WiFi.
On the sidelines of its Core Raptor Lake launch a few days ago, Intel also showcased its chipset Z790 dedicated to this new generation of processors. Motherboard manufacturers followed suit, announcing their respective products one after the other. Of course ASUS is one of them, with a whole range of new Z790 motherboards, including ROG Strix Z790-E Gaming Wi-Fi which is interesting to us today.
The ROG Strix Z790-E Gaming WiFi targets the high-end gaming segment, and therefore expected to live up to its claims (and price). The general presentation of the product remains classic, in the same line as the models of the previous range, with all the accessories individually wrapped in a plastic bag; ecological point of view, we will return.
Intel Core i9-13900K and i5-13600K test: Raptor Lake, the new darling of gamers?
In addition to the essential user guide, the bundle consists of a sticker sheet and a Republic Of Gamers key ring, the WiFi antenna, two SATA cables, cable ties, pads and fixings for M.2 SSDs, a support to alleviate weight of the graphics card or even accessories that offer the possibility to add fans of different sizes to the VRMs or to the memory. In other words, it's enough to deal with any case or need, but no goodie really stands out.
ROG Strix Z790-E Gaming WiFi: full functionality
A top-of-the-range model intended for gamers, this motherboard offers attractive features and functions on paper. In addition to its LGA 1700 socket that supports the twelfth and thirteenth generation of Core processors, the ROG Strix Z790-E Gaming WiFi has four DDR5 connectors, for a maximum possible 128 GB DDR5-7200with XMP support of course.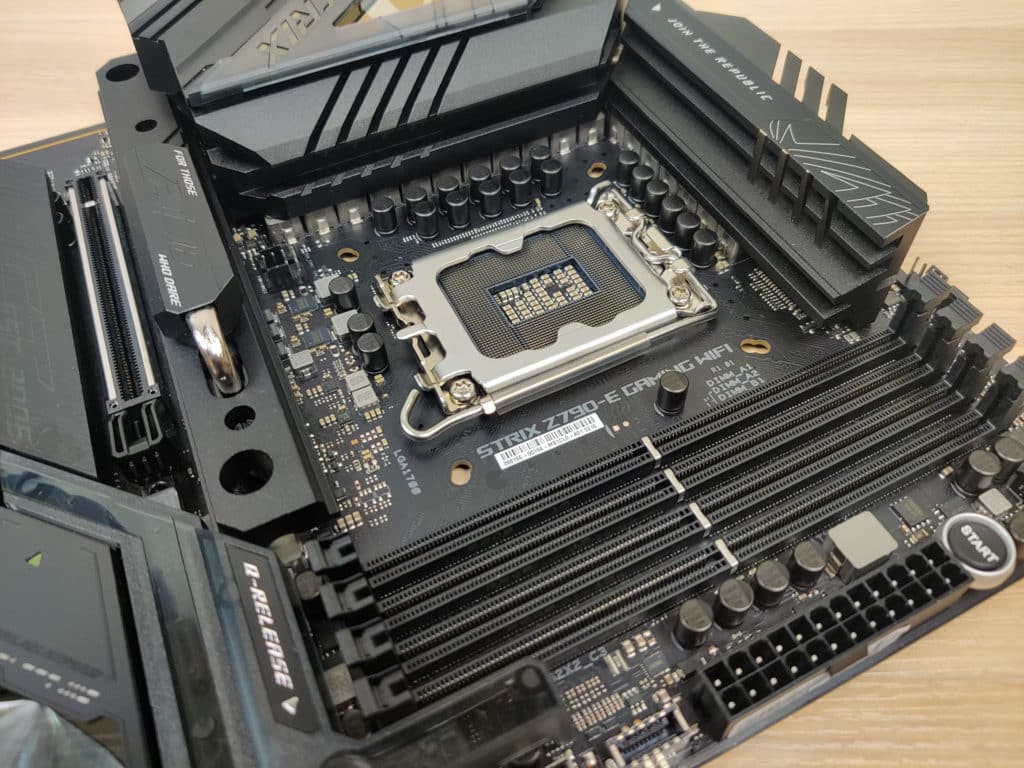 On the side of the expansion port, there is one PCI-Express 5.0 x16 slot reinforced and directly connected to the CPU, and two PCI-Express 4.0 x16 ports (wired to x4). So we lost a PCI-Express 1x port compared to the ROG Strix Z790-E Gaming WiFi. Five M.2 ports are available in total: two connected to the processor (as interfaced to PCIe 5.0 x4 and PCIe 4.0 x4), and three attached to the chipset. The latter supports PCIe x4 SSDs for the most part, but one of them is also compatible with SATA AHCI mode.
Attention, ASUS specifies that if the main M.2 port, which is connected to the processor on PCIe 5.0 and has a dedicated heatsink, is used, the PCI-Express 5.0 x16 port will only work at 8x, possibly limiting (very) the graphics card. Four standard SATA connectors are also available for "legacy" storage devices.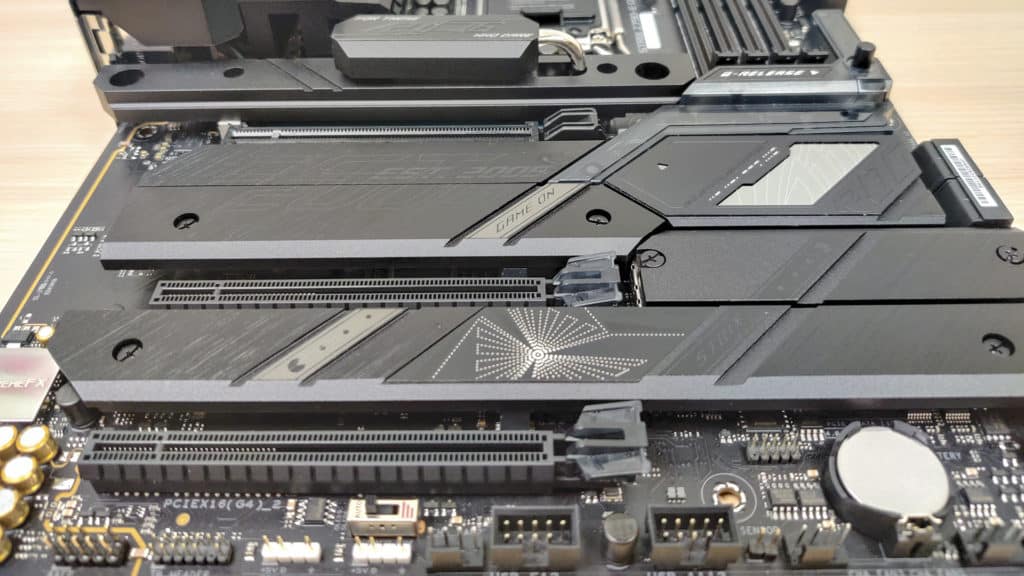 On the back, there is a fairly wide connection with a total of 12 USB ports (one USB 3.2 Gen2x2 Type-C, seven USB 3.2 Gen2 plus one Type-C, and four USB 3.2 Gen1). And if that's not enough, nine additional USB ports (including one USB 3.2 Gen 2×2 with PowerDelivery 30W support and four USB 3.2 Gen1) and one Thunderbolt/USB4 can be plugged into dedicated connectors on the motherboard.

HDMI and DisplayPort outputs are also available, as well as the essential audio input/output, which benefit for the occasion from gold-plated connectors. A 2.5Gbps Ethernet port, sockets for WiFi/Bluetooth antennas and "Clear CMOS" and "BIOS Flashback" buttons complete the package.
A worked and improved ROG Strix design
Unsurprisingly, this motherboard takes the spirit of previous models in the range, with plastic parts and aluminum radiators in the characteristic ROG Strix design. But ASUS refined its sketches when designing the ROG Strix Z790-E Gaming WiFi, specifically playing with the reflections or translucency of some plastic parts.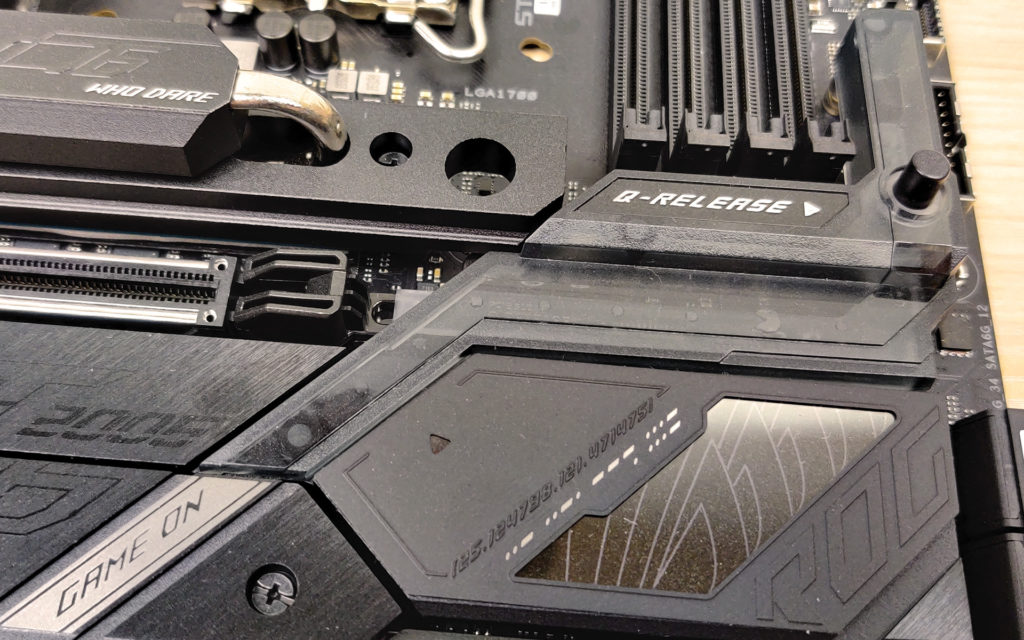 This is for example the case of "Q-Release" which allows, as a reminder, that easy insertion and removal of a graphics card on the main PCI-Express port: the transparent plastic used allows the mechanism to be seen, with little impact. In the same way, we find here and there a little Pac-Man indulging in his favorite pastime. Simply put, ASUS has an eye for detail and we like that.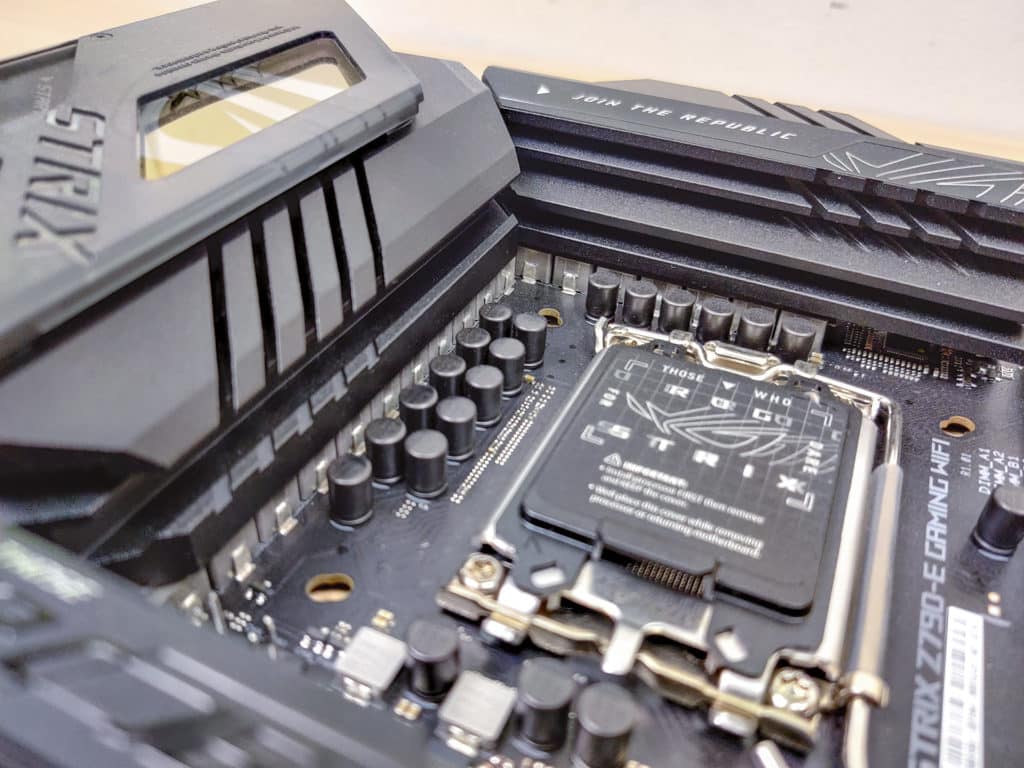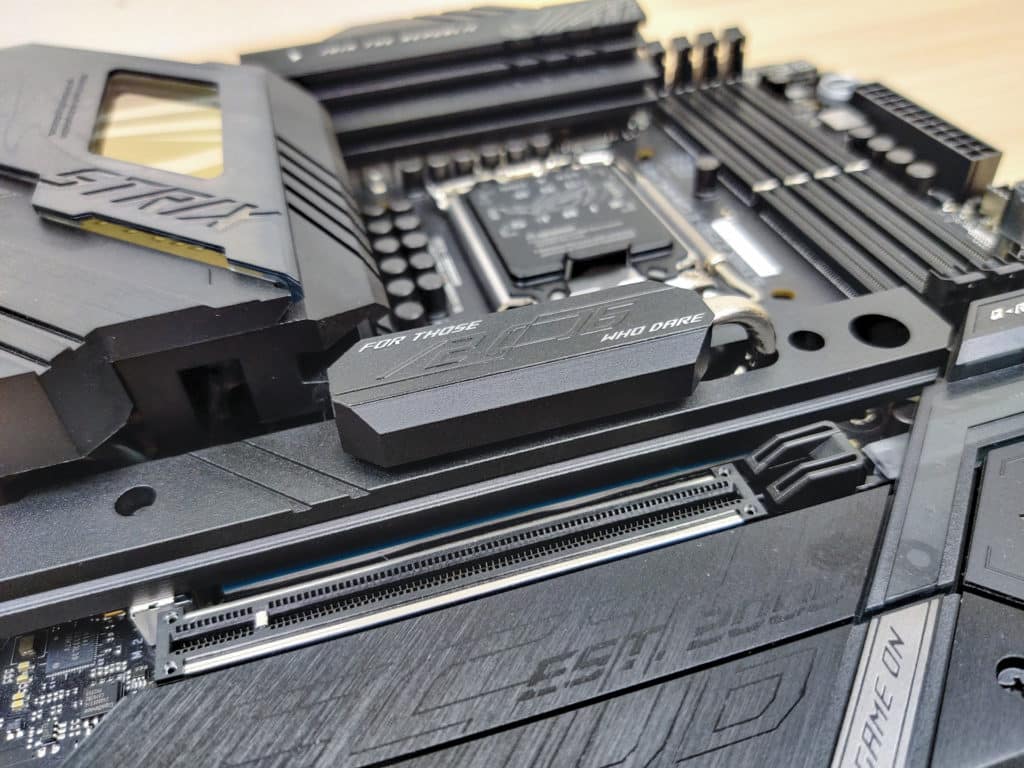 The cooling system design of this motherboard's 18+1 phase power stage remains very close to that found in the manufacturer's ROG Strix Z690-E Gaming WiFi. L-shaped, it consists of two radiators connected by a heat pipe. Dissipation is therefore passive., but it is possible to add a small 40/50 mm fan (not provided) thanks to a support (provided). The main M.2 slot benefits from a dedicated heatsink, as does the Z790 chipset.
Compatible Aura-Sync, this ROG Strix Z790-E Gaming WiFi has an RGB connector and three addressable Gen2 ports. It also benefits from an RGB zone with customizable colors, between the power stage heatsink and the rear I/O panel. Last good points, ASUS added a start button directly on the PCB, and some connectors such as ATX12V are reinforced.
A clean layout, quality components
Once laid out, without its radiators and plastic, the ROG Strix Z790-E Gaming WiFi confirms its high-end placement with compact but impeccable layout. The 7.1 audio component, which consists of a SupremeFX ALC4080 chipset and a Savitech SV3H712 amplifier, is well isolated from the rest of the layout to minimize interference. The power stage, similar to that of the Strix Z690-E Gaming WiFi, is based on a Renesas RAA229131 PWM controller that manages 18+1 phases (90A Intersil ISL99390 SPS MOSFETs).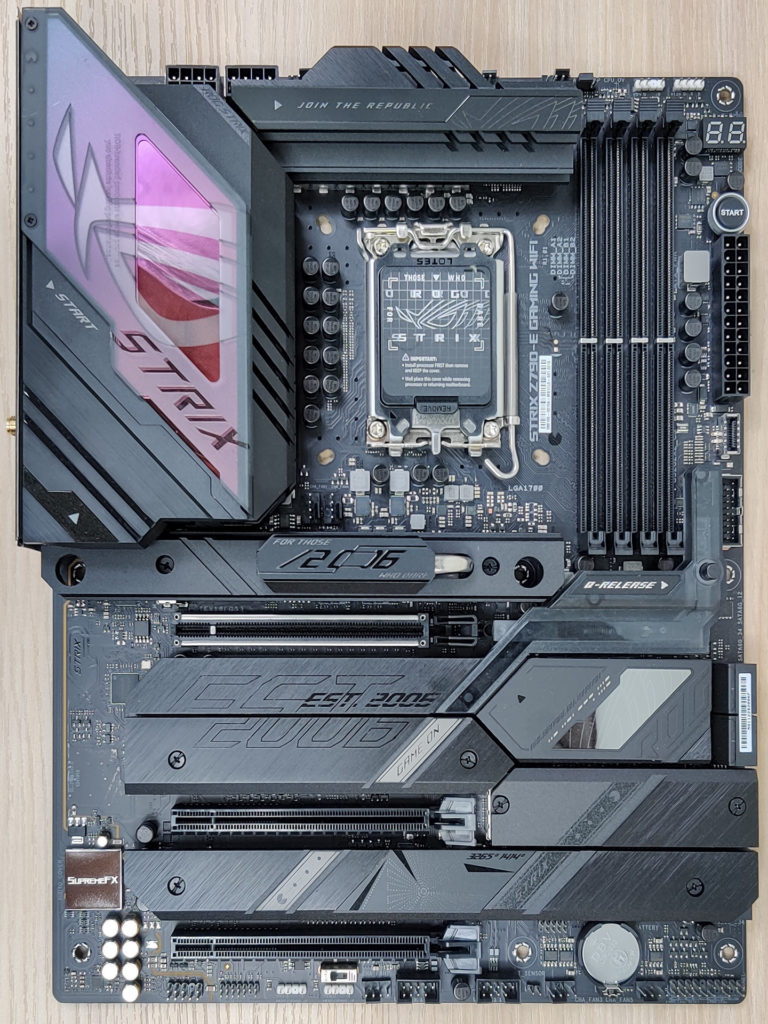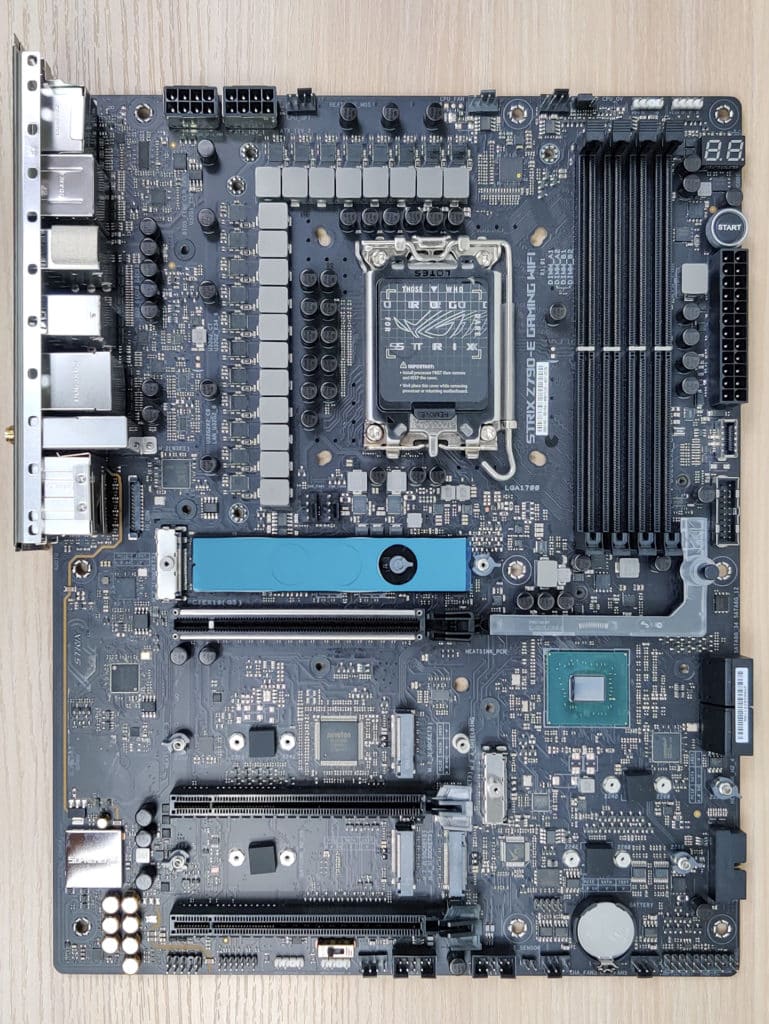 The management of the 2.5Gb Ethernet is entrusted to an Intel I226-V chipset, while an Intel AX210 module takes care of WiFi 6E and Bluetooth 5.3. The manufacturer also uses quality controllers to manage other interfaces (specifically USB 3.2 Gen1 and Gen2 ports managed by ASMedia ASM1074 and Realtek RTS5420 chips).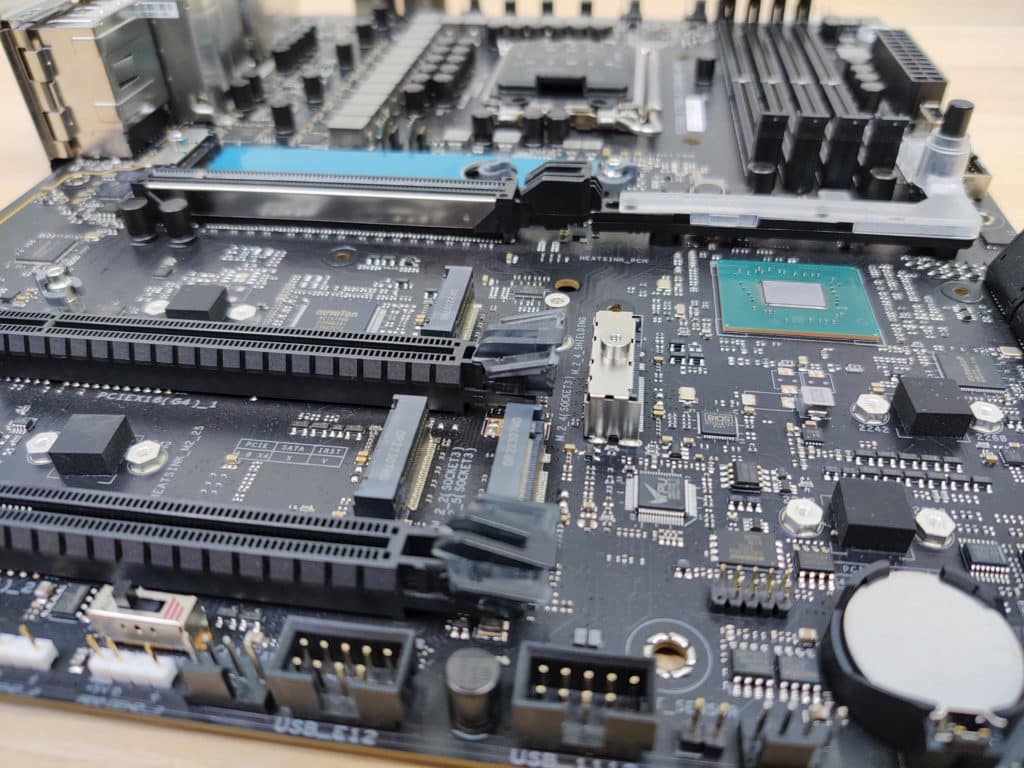 Finally, this ROG Strix Z790-E Gaming WiFi offers many settings for overclocking, cooling, ventilation or even audio features thanks to the complete software suite (AI Cooling II, AI Noise Cancellation, GameFirst VI, AI Suite 3, Sonic Studio III or even Armory Crate). However, we will return to this aspect soon, with a more specific focus on functionalities. AI Overclocking and Enhanced Memory Profile II featured not ASUS. To be continued throughout the trial…